… This is Amelia. Amelia needs a new kidney but is being denied the medical care to save her life because a committee of doctors felt Amelia was not worth saving.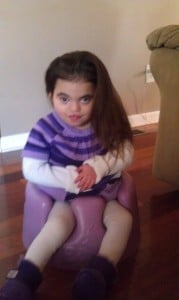 Please read the Rivera's heartbreaking story and pray for Amelia and her family. Also, share Amelia's story on your own blogs and on Twitter (#teamamelia) because the internet can be used for good. Even USA Today picked up the story due to the powerful word of mouth on blogs and social media.
Sadly, determining who is worthy for advanced medical treatment is something hospitals do all the time. It is a reality due to the cost of treatment. I've seen people denied care for being too old or too sickly. If someone is going to die anyway, or is close to death, then why bother trying to save them, right? Why not use the medical resources on someone else a bit healthier or younger or not mentally retarded… someone who will have a good quality life. Never mind that we are all going to die one day so this argument is invalid.
And here we are again, judging who deserves to live or die. A life lived with a developmentally delayed mind may not be an ideal life for a young girl but it's the life she was given and ultimately worth trying to save.