Updated 7:12 PM – a screen grab from Stem Express's webpage before they promptly removed in when the story broke.
@the_crescat screenshot of StemExpress page before it shut down. Note focus on Financial Profits. #PPSellsBabyParts pic.twitter.com/uHOMfklVGN

— ctmommy (@ctmommy) July 14, 2015
UPDATE 6:35 PM Gov. Bobby Jindal Announces Planned Parenthood Investigation
UPDATING THE UPDATES WITH RESPONSE FROM PLANNED PARENTHOOD. 7/15/15 6:13pm
Planned Parenthood alleges the tissue is donated to them to use for research and that they receive "no financial benefit" regardless of the FACT that the video very clearly indicates they receive monetary compensation for each organ sold, around $30 – $100 per organ. Read their full statement here.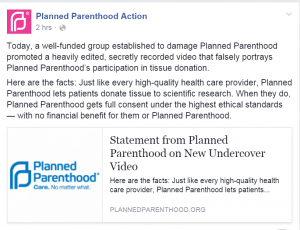 BREAKING: Company that buys aborted fetal organs from Planned Parenthood exposed.
According to Breitbart, the company website is now down and calls from their reporting agency have not been returned.
StemExpress is a five-year old privately held for-profit business located in Placerville, California that describes itself as "a multi-million dollar company that supplies human blood, tissue products, primary cells and other clinical specimens to biomedical researchers." The company says it "offers the largest variety of raw material in the industry, as well as fresh, fixed and cryopreserved human primary cells."

—

The buying and selling of human body parts is illegal under the U.S. Criminal Code though companies can charge for expenses. The question becomes how a "multi-million dollar" for-profit company buys fetal body parts and sells them but makes no profit.
Stem Express
Address: 778 Pacific Street, Placerville, CA 95667
Phone:(877) 900-7836
Stem Express on Facebook
Updated 7/14/15 @ 6pm. 15 minutes after this was published and shared on social media Stem Express removed their facebook account. They replaced it with a Stem Express Donor Center account that was removed five minutes later. At this time their Twitter account, @StemExpress, was still active… for now.
Cate Dyer, founder and CEO, Stem Express
Distinguished service award from Cal State U, Sacramento awarded to Cate Dyer – with video.
Please sure to tag and add appropriate hashtags when sharing this story via social media. #PPSellsBabyParts and #PlannedParenthood is trending.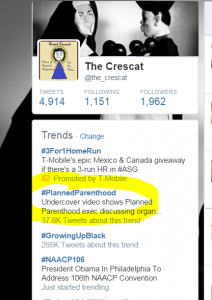 Story continues below as originally published.
… Planned Parenthood is one of the most nefarious and outright evil organizations on the planet. The company is literally funded by blood money.
Under the guise of "women's right" and reproductive "health" they are responsible for the daily mass killings of babies, instructing elementary school children on how to perform anal and oral sex, promoting promiscuity, and now we can add pedaling black market baby parts to their long list of offenses.
(Life News) – New undercover footage shows Planned Parenthood Federation of America's Senior Director of Medical Services, Dr. Deborah Nucatola, describing how Planned Parenthood sells the body parts of aborted unborn children and admitting she uses partial-birth abortions to supply intact body parts.

The footage shockingly depicts the top medical official (Nucatola) at the Planned Parenthood corporation munching on her salad while she discusses the sale of body parts of unborn children victimized by abortions. She brazenly describes how the heads of unborn babies killed in abortions command top dollar.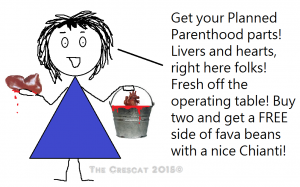 Then the "doctor" goes on to graphically describe how they deliver the child breech and crush the head to preserve the most desired "parts" like the heart and liver.
Warning: Graphic
Nucatola replies. "I'd say a lot of people want liver. And for that reason, most providers will do this case under ultrasound guidance, so they'll know where they're putting their forceps. The kind of rate-limiting step of the procedure is calvarium. Calvarium—the head—is basically the biggest part."

Nucatola explains, "We've been very good at getting heart, lung, liver, because we know that, so I'm not gonna crush that part, I'm gonna basically crush below, I'm gonna crush above, and I'm gonna see if I can get it all intact."

"And with the calvarium, in general, some people will actually try to change the presentation so that it's not vertex," she continues. "So if you do it starting from the breech presentation, there's dilation that happens as the case goes on, and often, the last step, you can evacuate an intact calvarium at the end."
Ghoulish.
If you support this organization in any way; in their "education" and other reproductive "services" like birth control, this is also what your supporting.
Own it.
This is the choice you choose to advocate. Own the shit out of this ghoulish horror that you personally contribute to and support.