… I'm excited to announce a new project I am working on. I've agreed to join a collaborative effort with four other bloggers, hosted by David Gray, that records a live bi-weekly show discussing topics in Catholic media and news.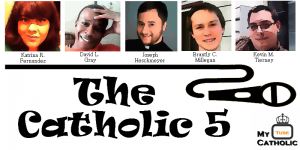 It's called The Catholic Five, and The Five are (host) David L. Gray (of DavidLGray.INFO), Joe Heschmeyer (Seminarian and Writer at Shameless Popery), Brantly Callaway Millegan (Founder and Editor of Church POP), Kevin M. Tierney (Associate Editor of Catholic Lane), and yours truly.
To catch the live recording this Saturday the 18th at 11 am follow this link.
And if you sleep in, no worries, catch the play back on youtube here.
During the live recording there'll be a chance to field viewer's questions and chat with The Five. This weeks show we'll be discussing Laudato Si, that Commufix, the gay marriage ruling, and #PPSellsBabyParts.
Specifically, I'll be discussing the planned parenthood video so if you have any pre-show questions you'd like to submit now I may have time to answer them on the show. You can send your questions or comments to thecrescatblog@gmail.com.
Also, be sure to follow The Catholic 5 on Twitter.
Looking forward to seeing you there.