… I want to start off by stating the official count for the Vigil mass on Sunday night at the Basilica – 12, 000*. Twelve thousand Catholics packed the National Shrine. So when you hear and read msm's accounting of the March, if they bother to report the event at all, know that at the vigil mass alone there almost 18,000 people in attendance and not just "several hundred" that may be reported.
Estimates put the March at half a MILLION participants.
Image source: Telecare.

Image source: Speaker of the House, John Boehner addresses the March attendants.
The number one impression I was left with after the March was one of joyous hope. The future of the Church is young, vibrant, passionate for Life, and thriving.

Image source: Stephanie Richer

I was thrilled with how well this image came out taken on my cell phone. These young people are part of the group that flashed mobbed the "Walk for Choice" in Chicago February of last year.
Catholics weren't the only ones marching either. The Lutherans For Life were there, members of the Hasidic Jewish community came from New York, and Orthodox hierarchs participated in the March.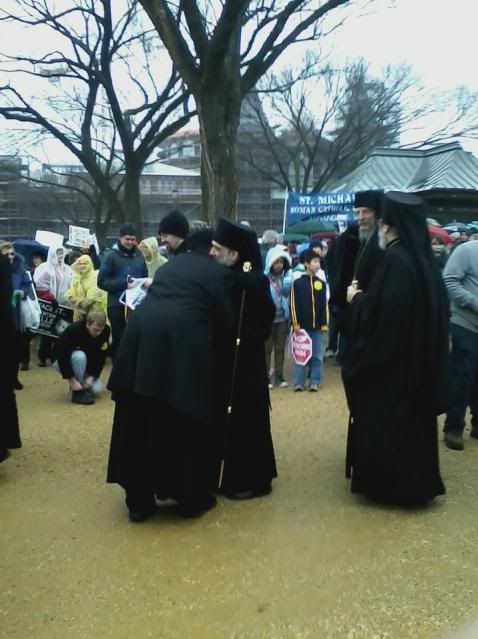 You know what else was impressive, our Bishops. We hear so many negative things about American bishops compromising their orthodoxy in favor of political correctness and liberal tendencies that one might begin to despair. Yet, there were quite a few who came out and marched with their diocese despite freezing rain and mud.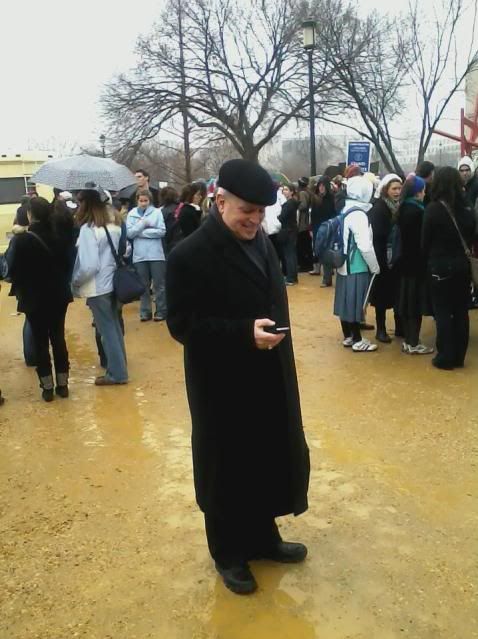 Bishop Aquila of Fargo.
I've been thinking quite a bit lately about something I heard at the Conference on English Catholicism. Two days before the March Joanna Bolge spoke at this conference encouraging American Catholics in their fight against abortion. Americans have a moral obligation to lead by example because the rest of the world is looking to us since we've made the greatest gains in ending the abortion holocaust. Her exhortation was repeated to me at the March by a family who traveled all the way from Canada. This Canadian mother brought her entire family from Toronto to Washington D.C because she knows that abortion will never cease in her country until we make it illegal in ours. Americans have a duty.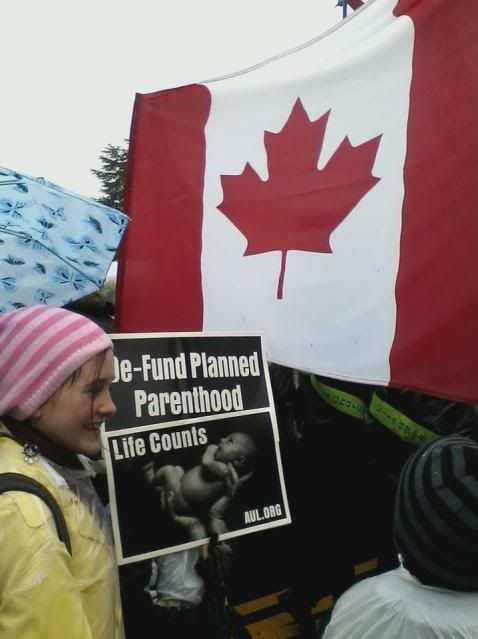 Not only was the rally weekend and the March For Life about coming together to speak out against abortion but it was also a good deal about vocations, inadvertently so. There was no escaping the sea of seminarians, nuns, monks and priests. They were at every turn, smiling and exuding wholesome joy. Young people were naturally drawn to them and attentively listened to the things they had to say.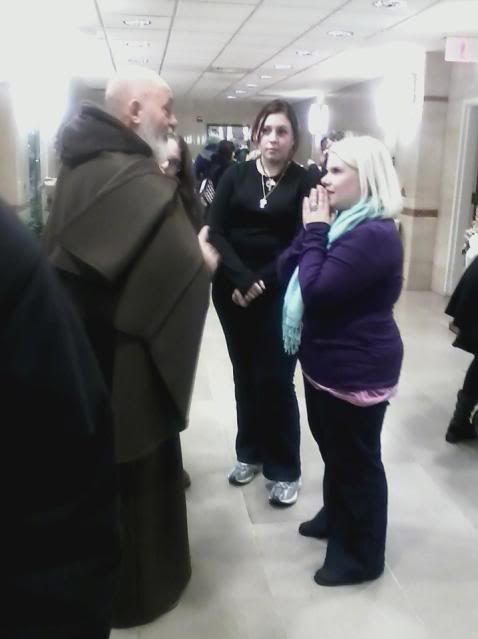 This young lady was so inspired by what this man was saying that she was smiling and crying when I snapped this photo. These are the kinds of encounters that cause young people to seek vocations and investigate religious life. At the March you could see entire communities of nuns and monks walking in the rain and singing with young people. Despite the miserable conditions they never ceased to smile.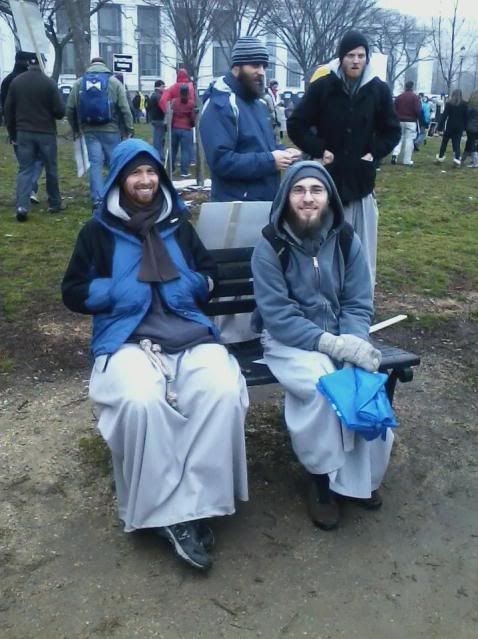 Quite plainly, they were representing. I did not see a single group from the order of Our Lady of the Ecosystem, Patroness of the Pant Suit. Perhaps that is why they have no vocations, because they follow lost causes that young people, future postulants, do not support.
I will be writing more about the rally throughout the week and including plenty of additional photos. This one post only scratches the surface of all that went on. Oh, and then there's the matter of the journalistic irresponsibility of WaPo's covering on the March. There is no excuse for this deliberate misrepresentation of the March For Life. It's laughable how pathetic their biased rhetoric is. It just goes to show you how desperate the left is to cling to the lie of abortion. They know there are losing ground and it has them scared.
*Images NOT linked to a specific source where photographed by me. I ask that if you use them to give proper attribution to this blog. If you recognize anyone in these images and the communities to which they belong please email me at the_crescat@yahoo.com. Thank you.
Updated 1-30-12: *Official count at the vigil mass as noted by the offices of the USCCB.