… So last night I got a sneak peak preview of Jennifer Fulwiler's new reality series, Minor Revisions. It airs tonight at 8pm on NET New York. It's okay if your cable provided does have access to NETNY you can watch it streaming here.
If you're not familiar with Jennifer where have you been? No, seriously. She's everywhere where people dabble in Catholic. Just check out her bio. All that and she home-schools five kids.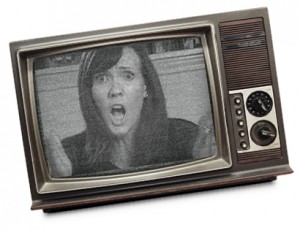 It seems like the cool thing to say is you hate reality series but the fact of the matter is I love them. Well most of them. Like hoarders and anything involving freaks and weddings or a bizarre combination of the two. What can I say. I'm a voyeur. So when Jennifer Fulwiler comes along with Minor Revisions of course I'm going to stop and stare. Despite the sad absence of freaks and crazy brides I found myself very much enjoying the series and her humorous candor about her faith, her conversion from atheism, and raising her ginormous family. Ginormous in today's world being anything more than two kids. She has five so that makes her certifiably insane.
Top ten reasons why you should watch this series. And while you're watching you can join in the twitter conversation by tweeting commentary to #minorrevisions. I'm not entirely sure how twitter parties work but I intend to make it a drinking game. Take a shot every time Jen kills a scorpion.
What others are saying: Elizabeth Scalia, Brandon Vogt