… What are you doing February 9th at 10 am? What's that you say? Nothing. Well, then why not join me on a little road trip to Greenville, SC to hear George Weigel lecture on his new book Evangelical Catholicism : Deep Reform in the 21st Century Church? The cost is only $5. Follow the link, then download the flyer to order tickets.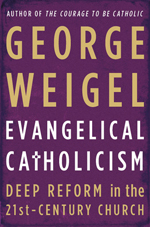 St. Mary's Catholic Church
111 Hampton Ave
Greenville, SC 29601
If you approach me and say "hello" consider your greeting a legally binding verbal contract to buy me one beer after the lecture… and I'll be traveling with my attorney.