… Or, things my good intention-ed self will attempt to do but probably fail at miserably. Yet some of these things are really good ideas so I thought I'd share them anyway. And really, if you only manage a few, that's something right?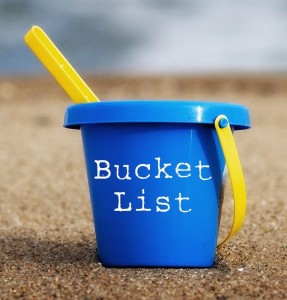 Catholic activities and opportunities that will hopefully inspire you, and maybe even challenge you, to grow in your Catholic faith. Please keep this bucket list and check off all the items that you or your family members are able to accomplish over the next year.

*Join the parish, if you are not already a member.
*Read the Catechism of the Catholic Church in a year via daily emails (flocknote.com/catechism), and/or purchase a copy of the Catechism for your home.
*Read the weekly Catechesis column in the bulletin.
*Pray daily A Family Prayer for the Year of Faith or the New Evangelization Prayer (usccb.org).
*Read and reflect on the Sunday readings before attending Mass each week.
*Make a habit to pray before meals, including meals eaten in public, by praying:


through Christ Our Lord, Amen.

Bless us, O Lord, and these thy gifts which we are about to receive from thy bounty,

*Check the list of dates in the bulletin for each month's events. Volunteer at one event.
And a whole bunch more. Click to read and print out the whole list of totally doable goals. Then share it with as many people as you know.