… Last night, according to the Charlotte Observer, nearly 1,000 people showed up at Charlotte Catholic High School's parent meeting to "air complaints" regarding the talk given by Sr. Jane Dominic Laurel.
The event was closed to the media and supposed to be for currently enrolled students and their parents only.
Though the Observer and local TV stations were told to leave the campus during the meeting, a reporter from the Catholic News Herald, the diocese's newspaper, was allowed in the meeting to cover it.

Before being ordered off the high school property, some Charlotte Catholic High School alumni and parents of former students passed out wristbands critical of the nun's remarks on gays and lesbians. The wristbands read "We are all God's children."
One such alumni parent who attempted to attend the event was Diane Troy, who incidentally is the president of PFLAG Charlotte, pictured below.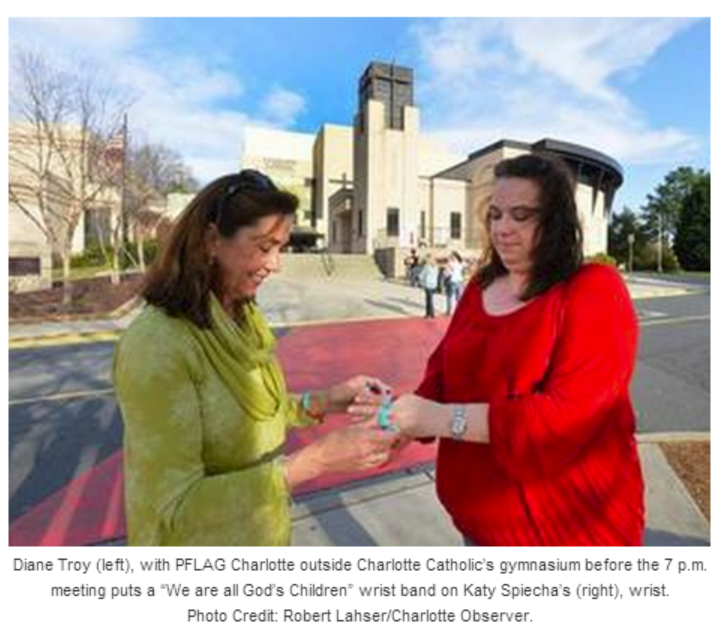 Interesting.
QNotes (the LGBT arts, entertainment and news publication based here in Charlotte) used the above photo to lead their republishing of the Observer's story.
The Observer also notes that,
Though the gathering was closed to the media, texts and tweets from parents inside the school gym cast the meeting as often heated, with emotions running high on both sides.
One parent live tweeted from the meeting. You can follow the link here to read her feed.
The Catholic News Herald stated, in their most recent update on the events,
Some parents tried coming to Father Kauth's defense but were shouted down by other people.
One parent told Father Kauth, "You have divided parents, you have divided students, and we've lost respect for you."
If they had any respect for him to begin with. It certainly doesn't sound like.
What it does sound like is that this petition may have been heavily influenced by agenda driven parents using their children's hurt feelings as an excuse to go all lynch mob-y on a priest and gin up manufactured outrage.
RELATED: Will Catholic Parents End Catholic Education. Susan Brinkmann, OCDS, of Women of Grace nails it — I blame the parents.