… You'll have to excuse me for a minute. I am just going to shamelessly brag on my diocese, the Diocese of Charlotte, for a bit.
And to think, I sort of fell into this particular diocese by accident. Not knowing anything about Catholicism in the South when I moved here, I consider it a gift of divine providence that I made Charlotte my home.
People often talk about the future of the Church and complain about the youths these days, tutting and shaking their heads, but I have to say there are quite a lot of mighty fine, faithful youth in this Diocese.
I think that's owed to the fact that we have quite a lot of mighty fine, faithful clergy here and one very faithful Bishop.
I'm glad my son is growing up here and his Sundays are filled with the timelessness of our liturgy. When he thinks of "church" he will always think of Catholicism – with Her votive candles, confessionals, stained glass windows, incense, and melodic, angelic chant. Even if he strays from Her in his adulthood, the Catholic Church will always be his home and what's most familiar.
Another fantastic thing about raising a child in this Diocese is that there are ample opportunities for him to experience Catholic community with other kids in lieu of me being able to afford a Catholic education. Opportunities like the annual Bishop's Youth Pilgrimage for middle and high school kids.
I know, I know. Another youth oriented thing, like those teen masses. Ugh, you say.
And that's a fair reaction, what with all the kook-buggery that typically goes on during World Youth Day celebrations and other large outdoor group masses. But I can tell you with all sincerity I have never seen a group of kids more serious about their faith. Some wore mantillas and most received the Eucharist on the tongue, many even kneeling. Confession was heard most of the day, there were morning and mid-day prayers, mass, adoration, and a Eucharistic procession.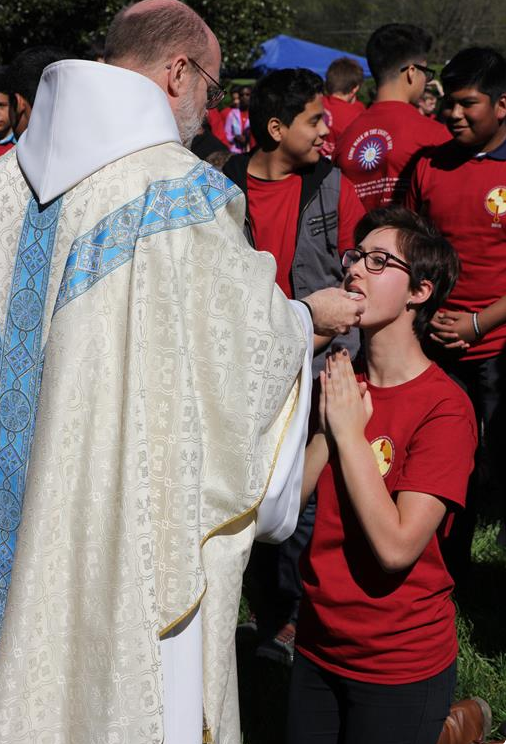 Photo courtesy of Catholic News Herald, source
It goes to show you that you can be 100% authentic and traditionally Catholic without resorting to lame, contrived attempts at being relatable and cool. Kids can tell the difference and will be behave accordingly when held to a higher standard.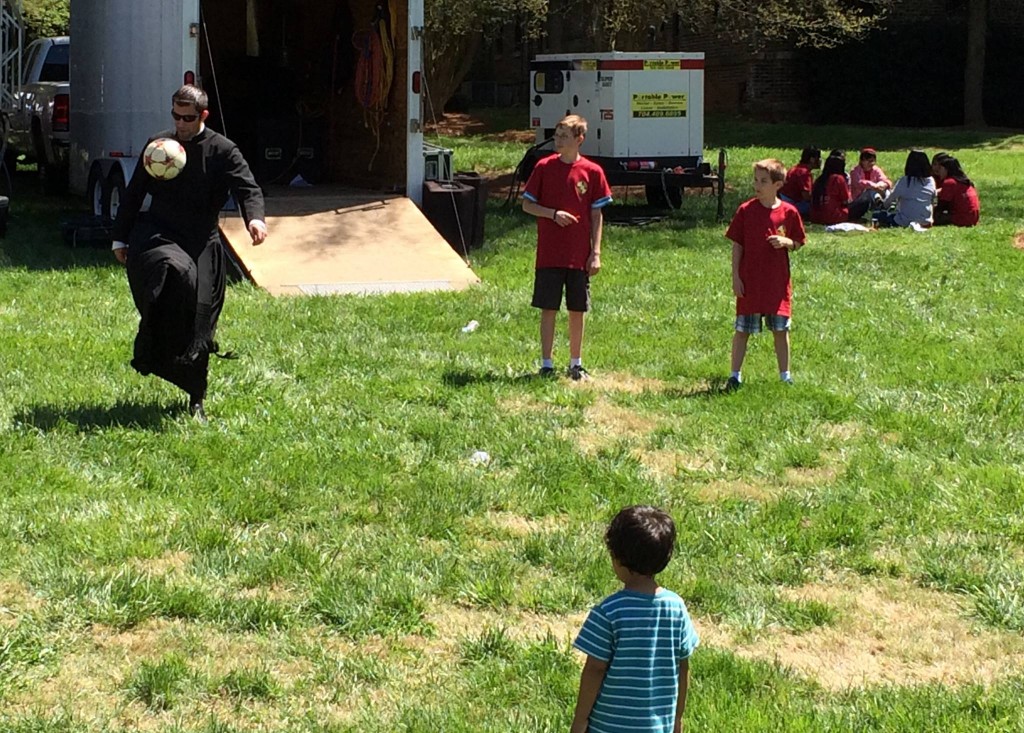 I took this last photo because I am sucker for a cassock.