… Tomorrow the conclave begins, in case you hadn't heard. And so begins Pope Watch 2013. Below is some useful information you may need, and some fun pictures too. If you came looking for papabile gossip you're at the wrong blog.
When To Watch…

Their set schedule will officially begin on Tuesday at 7 a.m. [Rome time], when the cardinals are required to move in to Domus Santae Marthae for the duration of the conclave, and will end until a new Pope is chosen.
Schedule for first day, Tuesday:
7:00 a.m.: Cardinals move in to Santa Marta
10:00 a.m.: Pro Eligendo Pontifice Mass at St. Peter's Basilica
3:45 p.m.: Depart from Hotel to Apostolic Palace
4:30 p.m.: Procession from Pauline to Sistine Chapels
4:45 p.m.: Swear-in ceremony, meditation and first vote by cardinals
7:15 p.m.: Vespers (prayer) at Sistine Chapel
7:30 p.m.: Return to Santa Marta
8:00 p.m.: Dinner
After the first vote is taken on Tuesday evening, the first fumata, or smoke, is expected between 7-7:30 p.m [Rome time]. The smoke is widely expected to be black.
After the conclusion of the first day, the cardinals will follow a set schedule each day until the next Pope is chosen. There will be four rounds of voting, twice in the morning and twice in the afternoon. They will break for lunch at 1 and end with dinner at 8 p.m.
Full-day schedule for the Conclave:
6:30 a.m.: Breakfast for one hour
7:45 a.m.: Depart from Hotel to Apostolic Palace
8:15 a.m.: Hour-long Mass at Pauline Chapel
9:30 a.m.: First two rounds of voting inside Sistine Chapel
12:30 p.m.: Return to Santa Marta
1:00 p.m.: Lunch
4:00 p.m.: Depart from Hotel to Apostolic Palace
4:50 p.m.: Remaining two rounds of voting inside Sistine Chapel
7:15 p.m.: Vespers (prayer) at Sistine Chapel
7:30 p.m.: Return to Santa Marta
8:00 p.m.: Dinner
After every three full days of voting, the cardinals break for a day of prayer and reflection, then resume for another three days. The first pause will be on Saturday if no pope has been selected before that. Then the schedule resumes as above.
The fumata after the morning votes will appear between 11:30 a.m.-Noon (7 a.m. EDT; 1100 GMT), while the smoke for the evening votes will appear between 6:30-7 p.m (2 p.m. EDT; 1800 GMT). Or you can just set your Pope Alarm.
In the event that a Pope is chosen during the first votes of the morning or evening, the smoke would appear at around 10:30 a.m. or 6 p.m. Once white smoke emerges from the chimney, a bell at the St. Peter's Basilica rings. Within an hour, the man who was selected emerges onto the balcony and his identity is known.
What Happens Next…
You'll want to bookmark this page for whenever the white smoke goes up. About 45 minutes after the pope is elected in the Sistine Chapel, Cardinal Jean-Louis Tauran will walk out onto the balcony at St. Peters and say:
"Annuntio vobis gaudium magnum; Habemus Papam."
("I announce to you a great joy; We have a Pope.")
"Eminentissimum ac reverndissiumum Dominum, Dominum [First Name]."
("The most eminent and most reverend Lord, Lord [First Name].")
Once he says the new pope's first name is Latin, scan this list and you'll be the first to know who was elected.
And the people rejoiced!
Now for the fun stuff to tide you over in the meantime. If you plan on following anything online, follow these three sources because they are sharing some fantastic pictures, all gloriously free of speculation and shameless promotion.
The first is the Swiss Guard's facebook page. A facebook page, seriously? Yes! Seriously. These guys are taking and posting some wonderfully candid shots of the comings and goings on the Cardinals and sharing other really fascinating images. Stuff you can't find elsewhere.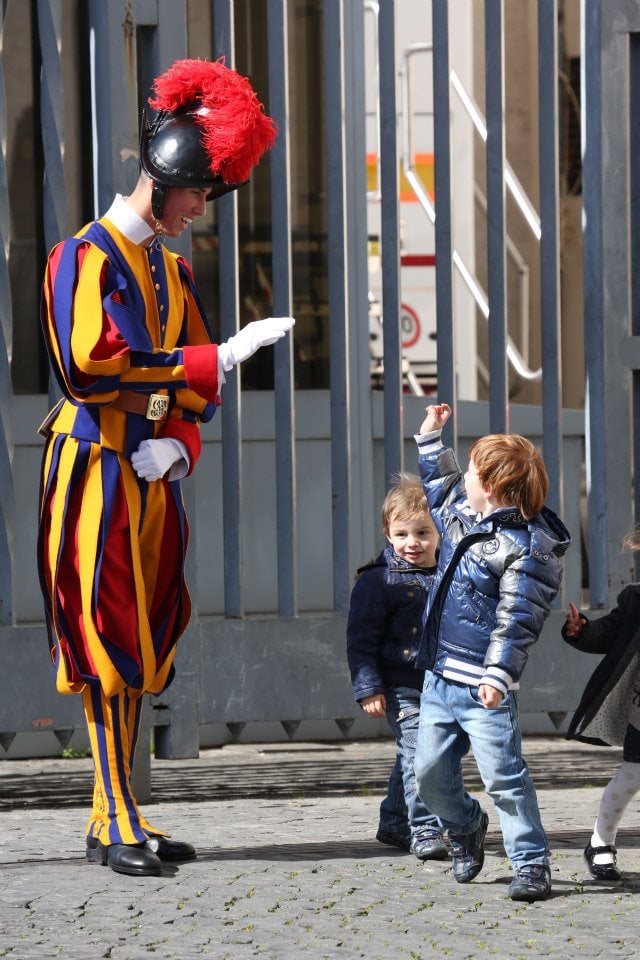 Speaking of facebook pages sharing wonderful photos… the above image comes from the Archdiocese of Boston's page. Another great one by the Archdiocese is the image below; a bus full o' American Cardinals.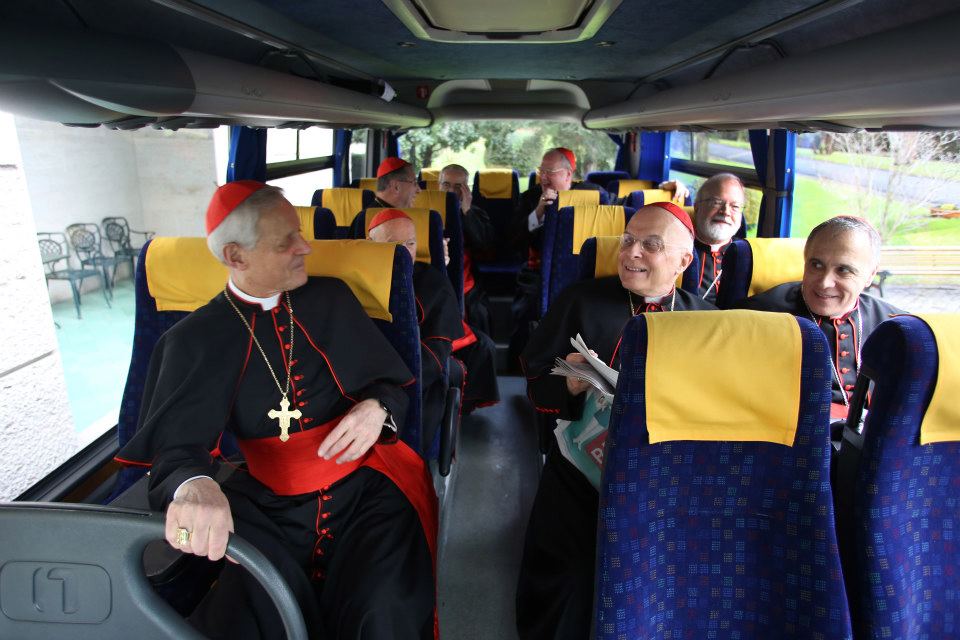 And lastly, I encourage you to also follow Vatican Radio – English Section. In fact the only news-y type news about the Conclave I've allowed myself to listen to has been from Vatican Radio and News.Va. Vatican Radio's facebook page is a real visual treasure, with pictures like the one below.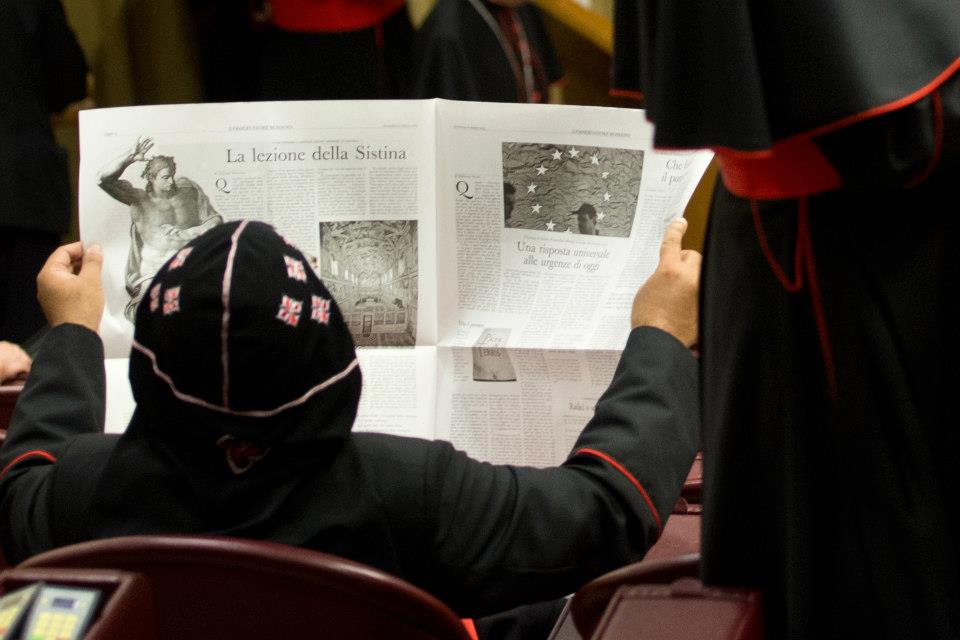 Oh, and there's one more thing you are going to need, more than anything else, over the next days and possibly weeks. Prayer.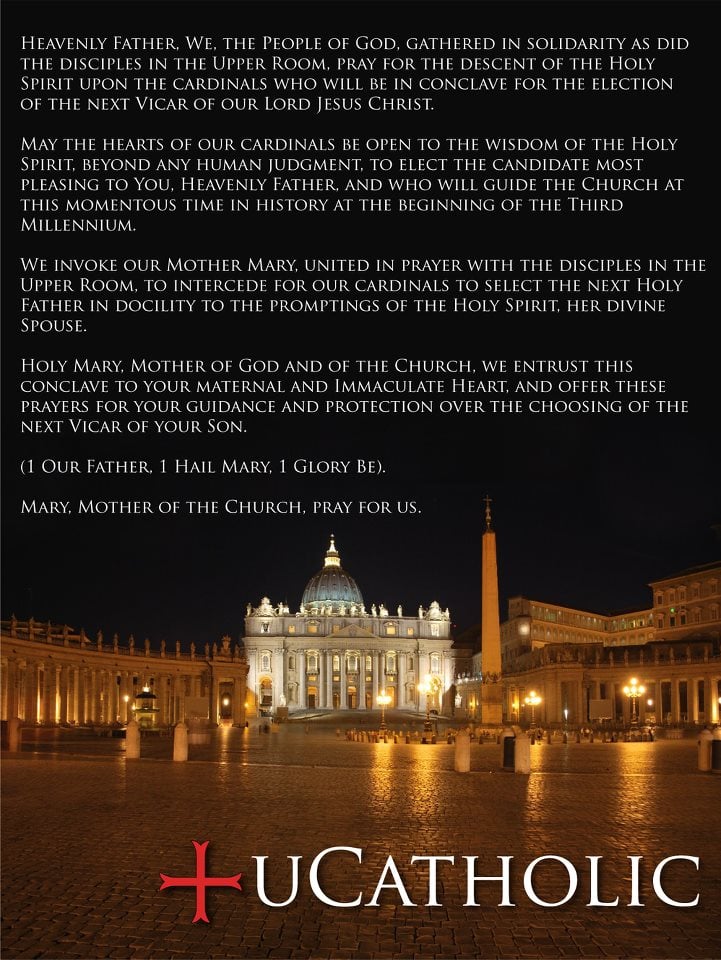 That is all.