… The Vatican's newest official court artist, Natalia Tsarkova, poses next to a painting of Pope Benedict XVI in her studio by Rome.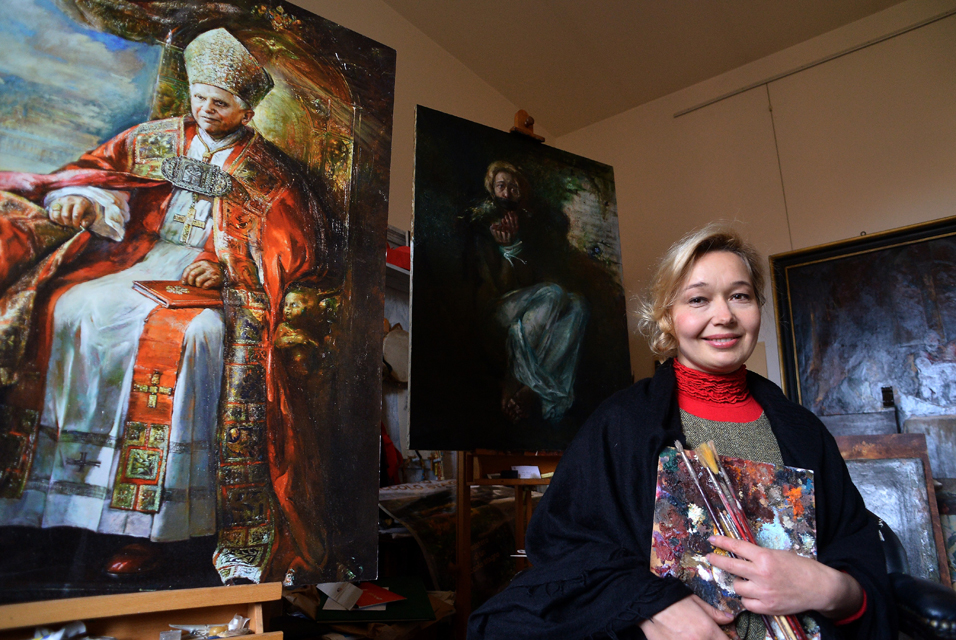 From Art Daily; ROME (AFP).- After Michelangelo and Raphael, the vatican's latest official painter is something of an unusual choice — an ebullient Russian woman with a pet owl who is a regular at the court of cardinals and popes. An Orthodox believer in the heart of Roman Catholicism, Natalia Tsarkova paints her classical-style portraits in a flat filled with vatican memorabilia by the walls of the Holy See. "I like the atmosphere here, I feel needed," Tsarkova told AFP in an interview in a studio with several unfinished works and back copies of the vatican's official newspaper, L'Osservatore Romano. It is a dream come true for this graduate of the prestigious Moscow School of Arts, whose paintings including portraits of Pope Benedict XVI and his predecessor John Paul II hang in vatican palaces, Roman churches and museums around the world.
ps – I love her landscape painting of Trastevere in Rome.
H/T New Advent