… When I announced yesterday my plans to feature fine art with a rosary theme for the month of October, which is dedicated to the Holy Rosary, someone noted that they would like to see paintings of men praying the rosary, specifically non-clerical men, because he was tired of the stereotype that the devotion was for women and grannies.
I get that. Some rosaries can look like items of jewelry instead of the powerful prayer weapons that they truly are. So I accepted his challenge and found this image; Gentleman With a Rosary by Lorenzo Lotto, Italy 1517.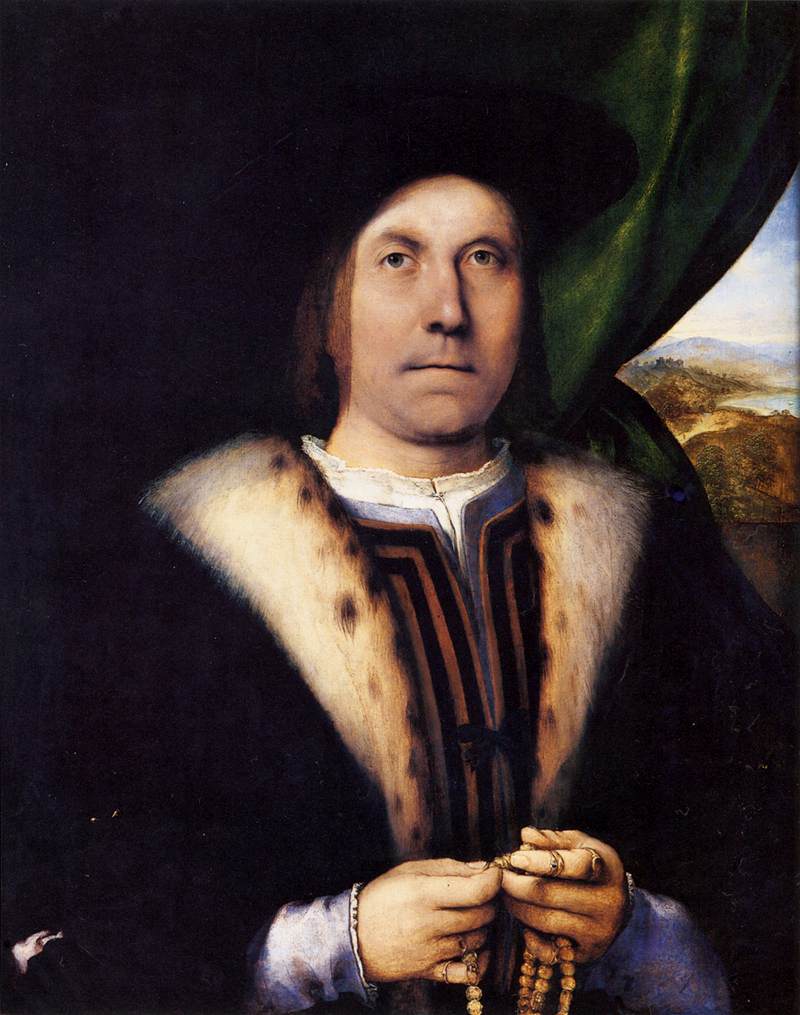 On closer inspection I noticed that the Gentleman's rosary beads were skulls. He's holding a Memento Mori rosary, or more commonly a Plague Rosary. During the time this portrait was painted Italy was experiencing a recurrence of the Black Death. Skull shaped beads, crossbones, and images of St. Roch patron saint against the plague, were common rosary designs.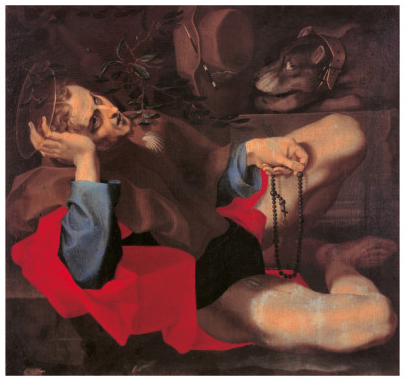 St. Roch Praying Rosary, by Andrea Lilio c. 1571
Not that skulls and death are specifically manly, because we are all called to live virtuous lives and remember that death can come at any minute for men and woman alike, but I can see where a man might find something like this more appealing than flower shaped beads and shiny jewel colored stones.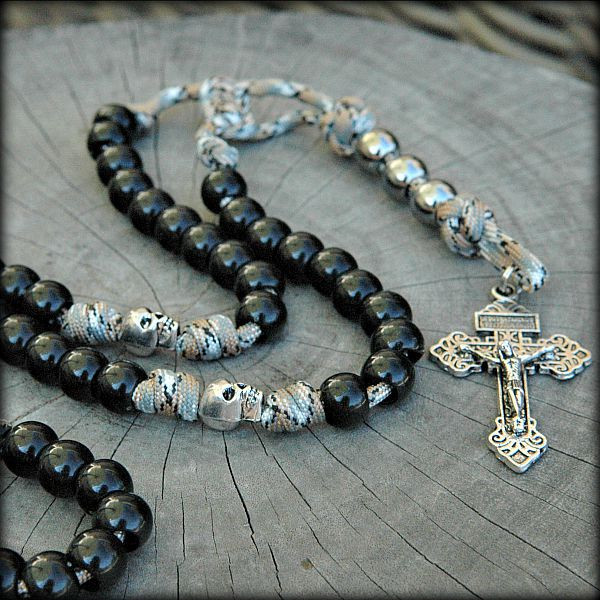 Paracord and skull memento mori rosary – SOURCE
Rosaries can be made out of all types of materials, they don't all have to look overtly feminine or like pretty necklaces. Take for example Fr. Mitch Pacwa's rosary made from .22 bullets.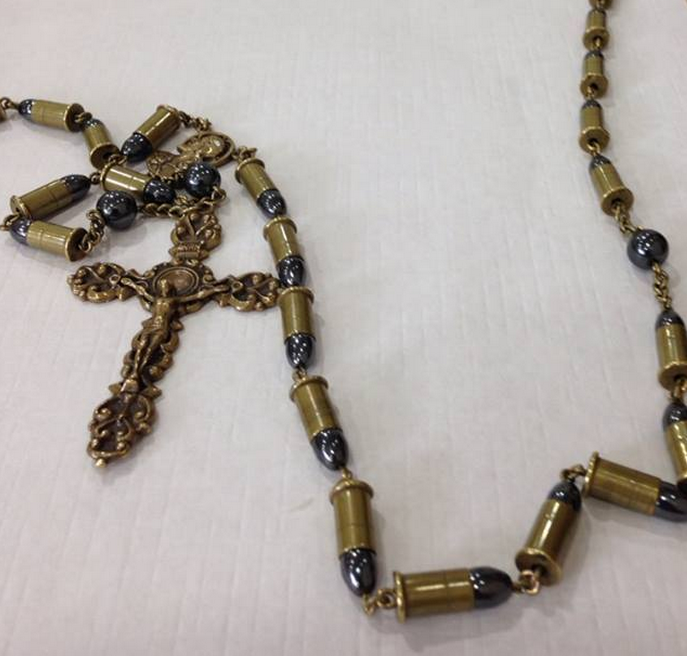 A bullet on a rosary isn't uncommon for members of the armed services and police officers. Black beads, wooden beads, knotted rosaries, and paracord rosaries are all designed for men's simpler more rugged tastes.
My own son has a small pocket rosary that he carries with him. For practical purposes it's smaller and fits in pockets and book bags, is made of a durable cord that won't break in the hands of rough boys, and has very basic design.
The idea of abbreviated versions of the rosary, like chaplets and single decade rosaries isn't new. The term "chaplet" dates as far back as the mid 12th century and is French for little head covering or little hat (un petit chapeau). It can also mean a crown or circular band of flowers. Here's a portrait of Albrecht Dürer the Elder with a Rosary Crown painted by Albrecht Dürer c. 1490.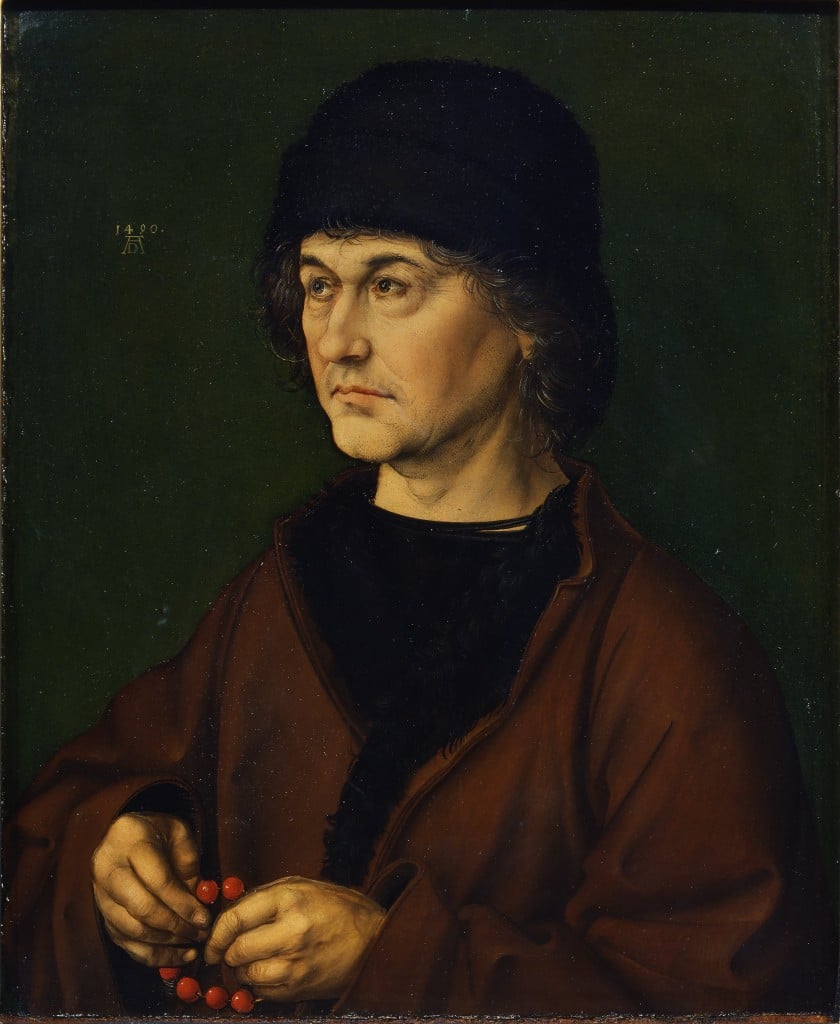 Or maybe it's not the material at all. Maybe it's the Marian focus of the devotion that makes men associate it with women. But the fact is, the rosary is a meditation on the life of Christ. When you pray the rosary you mediate on Christ – His sufferings, His Passion, His Joys, and His triumphs … through the intercession of His Mother, of course. Yes, some of the mysteries are specifically related to events in Mary's life but each event actively points us back to Christ. That is what She does. She guides us to Her Son.
All types of men pray the rosary.
Military men.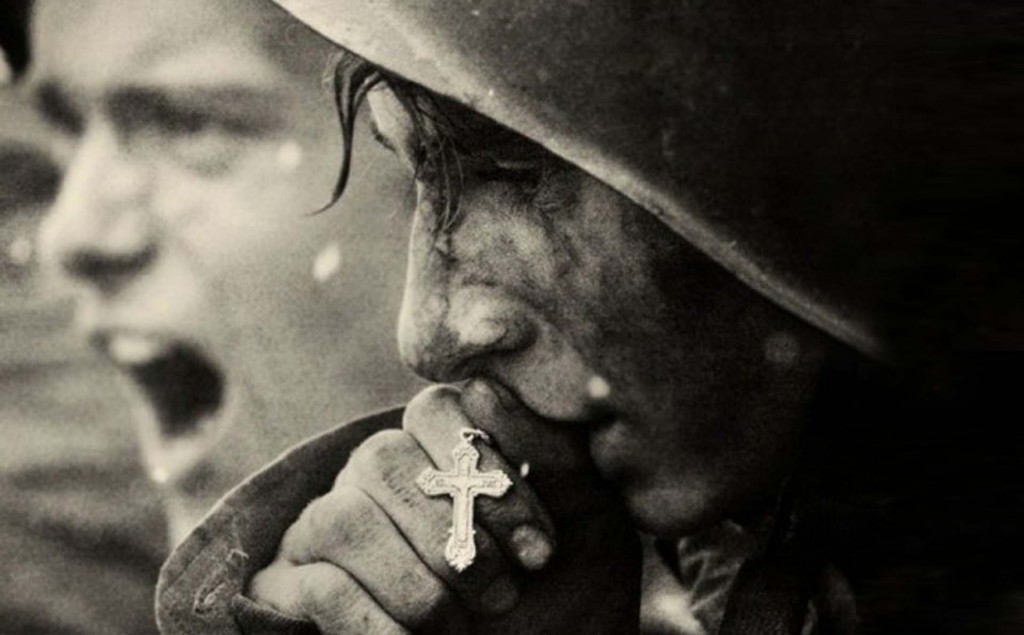 C. 1916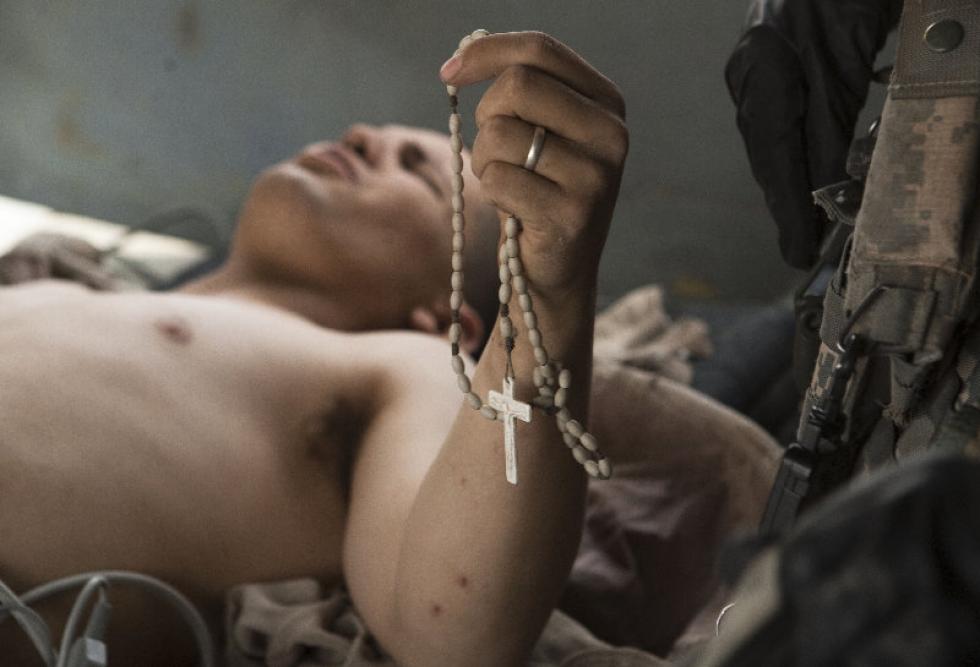 Associated Press photographer Anja Niedringhaus, 2011
Lance Cpl Blas Trevino from 1st Battalion, 5th Marines clutches his rosary beads as he is rescued June 11 on a medevac helicopter from the Army's Task Force Lift "Dustoff," Charlie Company 1-214 Aviation Regiment after he got shot in the stomach outside Sangin in the Helmand Province.
Boys.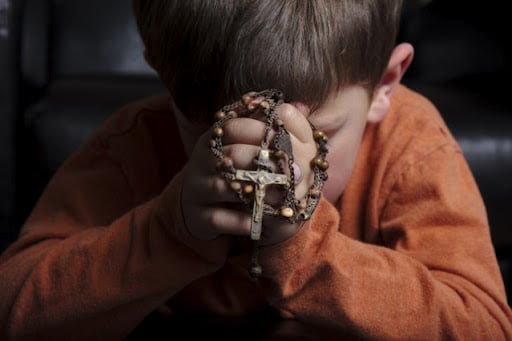 Young men.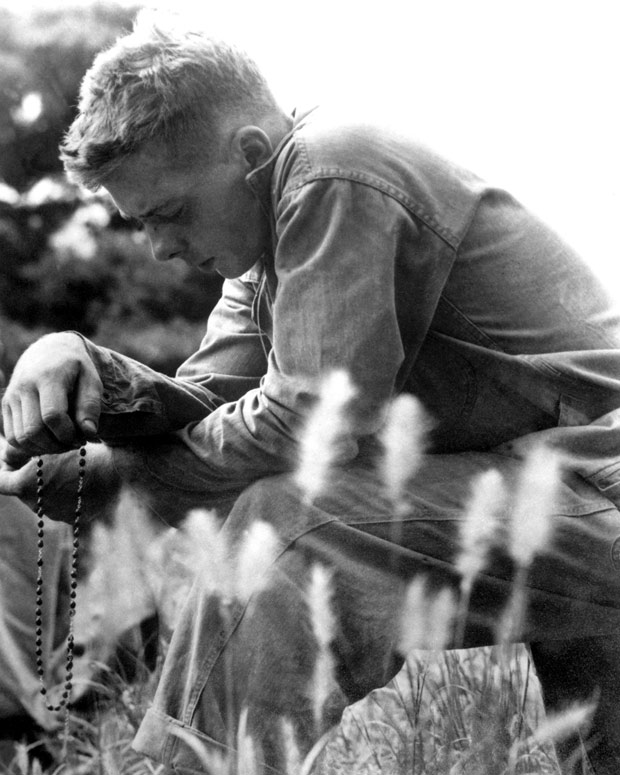 Old men.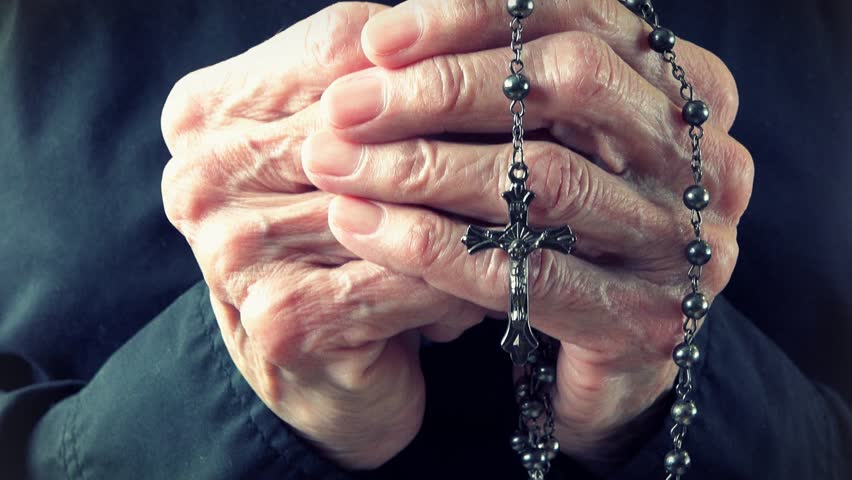 All types of men. Not just grannies and clergy.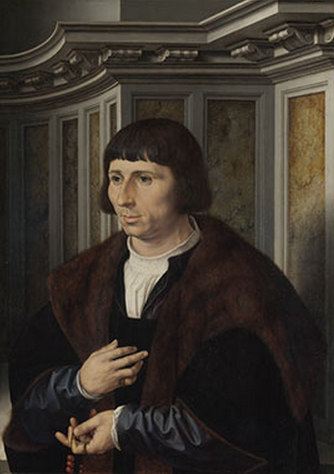 A Man With Rosary, Jan Gossaert
In wasn't hard at all to find examples of men in art praying the rosary. Men have been praying the rosary for centuries and I don't suspect the devotion is going to go out of fashion for men any time soon. In spiritual warfare it's one of Catholicism's fiercest weapons.
Related: 1916 Military Rosary Inspires New Combat Rosary, Real Men Pray the Rosary, and Do Real Men Pray the Rosary? TX Man Says Yes; Many Agree