… In other words, be bullied to surrender your moral convictions; the left's "tolerance" where all your morals are belong to us.
Sources, here and here at Catholic Bandita.
As the Diocese of Columbus is standing firm on the decision to fire a teacher who is openly living in a lesbian relationship, Anonymous readies the hammer to drive the nails into the Body of Christ as the group has issued a public threat of blackmail against the diocese.

The hacktivist group, Anonymous, is threatening to dig up dirt on members of the Columbus Catholic Diocese if a fired gay teacher is not allowed to return to her job at Bishop Watterson High School.
I'm not too worried. After all this is the same organization that tried and failed miserably to hack the Vatican's website. A website that, I remind you, looks like this…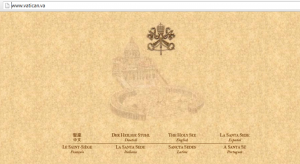 Behold the power of the impregnable parchment background!
I've got so much more on this to write but my time is short at the moment. I do want to note; expect a post soon on how this isn't about homosexuals and their "rights" – this is an exercise in conformity.