… Used to be churches were identifiable by their name. St. Virgin Martyr Church and Church of the Most Holy Blood of Christ. Catholic. First Baptist. Main St. Methodist. You get the idea. Then suddenly, as if blown in by the winds of moral vagueness, we started seeing indiscernible nondenominational "worship communities".
Elevation Church is a popular one around here. Crosswinds Community Center; I can't tell if this is a church or retirement community. There's Cross Roads, Freedom House, The Gathering Church, Vertical Church, Impact Church, and my newest favorite… Journey Church. Which of course made my imagination squeal with delight.
A church that plays only Journey music, has fog machines, and does air guitar instead of the sign of peace?! Righteous!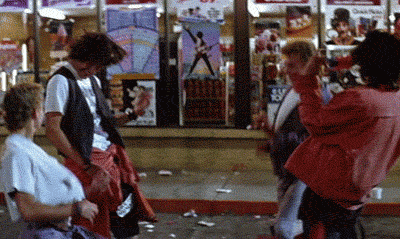 Funny how all these questionable sounding nondenominational worship communities make me think of everything
but
God. I get the human desire for community and companionship but I don't go to church looking for human interaction.
I go looking for interaction with the Divine
. I think these community churches are what happens when people start looking for the parish to fill their social needs over spiritual ones.
Anyway… I still think a Journey Church would be awesome. I just hope their hymnal includes "Don't Stop Believin'." Otherwise, what's the point?