… Pray for Egypt. Pray hard. I figure now is as good a time as any to spread devotion to St. James Matamoros (the Moor slayer) and The Most Holy Name of the Blessed Virgin Mary.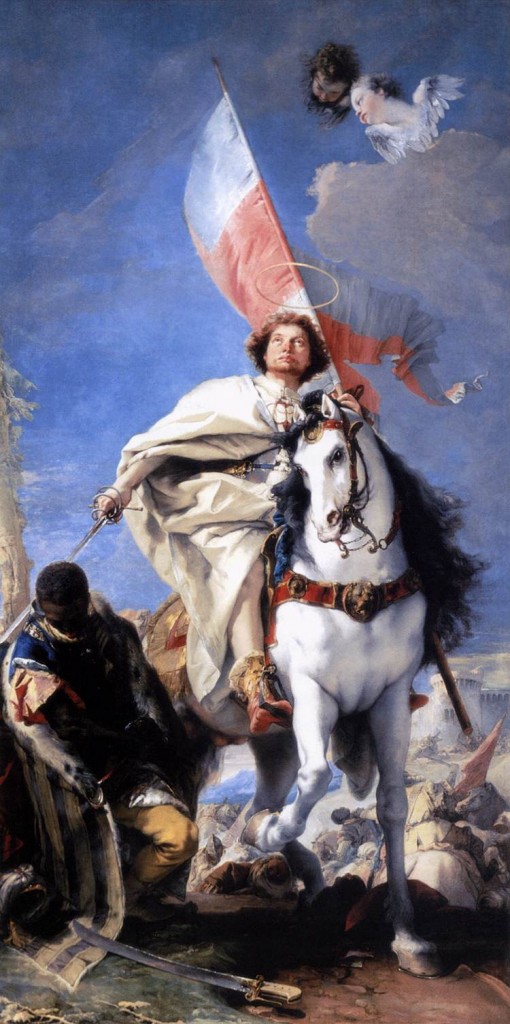 The appellation "Matamoros" comes from the legend of Clavijo's Battle, where he led the discouraged Christian troops to a smashing victory against the Mohammedans. King Ramiro I defeated the troops of Abd ar-Rahman II at the Battle of Clavijo with the assistance of a knight on a white horse who fought by his side and who was considered to be the Apostle. This was the beginning of a myth that would make the Apostle the Patron-Saint of the Spanish Reconquista.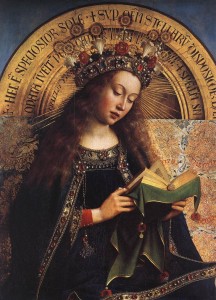 Ghent Altarpiece by Van Eyck
This feast (of the Holy Name) is a counterpart to the Feast of the Holy Name of Jesus (January 3); both have the possibility of uniting people easily divided on other matters.

The feast of the Most Holy Name of Mary began in Spain in 1513 and in 1671 was extended to all of Spain and the Kingdom of Naples. In 1683, John Sobieski, king of Poland, brought an army to the outskirts of Vienna to stop the advance of Muslim armies loyal to Mohammed IV in Constantinople. After Sobieski entrusted himself to the Blessed Virgin Mary, he and his soldiers thoroughly defeated the Muslims. Pope Innocent XI extended this feast to the entire Church.
"Lord our God, when your Son was dying on the altar of the cross, he gave us as our mother the one he had chosen to be his own mother, the Blessed Virgin Mary; grant that we who call upon the holy name of Mary, our mother, with confidence in her protection may receive strength and comfort in all our needs" (Marian Sacramentary, Mass for the Holy Name of the Blessed Virgin Mary).
See also, Novena for the Persecuted Church and 1,600 Year Old Virgin Mary Church Destroyed By Muslims because they supposedly revere Her or some other such nonsense.