… You know that news story about the Long Island grandmother boasting about her recent "ordination" to the priesthood? Yeah, well this post isn't about that. Not necessarily. It is about little old grandmothers though.
Never mind the poor dear is delusional and most certainly is not an ordained priest. Delusional people can be found in every age bracket. I want to address the vilification of the elderly. They can be found in the comment sections of any article or post written about the various shenanigans of the "aging hippy crowd". The most charitable thing some can find to say is that they will all be dead soon enough.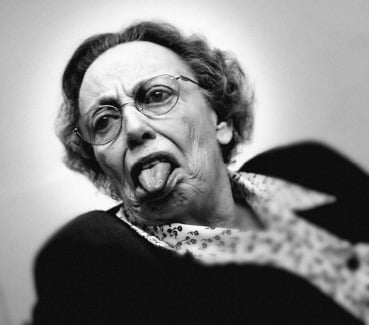 The fact that this particular grandmother got her start as a lector punctuates a fear of the elderly many have that all those old ladies they see volunteering at their parish secretly desire to be womyn priests.
There's a less nefarious and more logical reason you see so many old ladies volunteering their time at your parish. It's because they have it. Time that is. Personally, I look forward to the slower paced stage in my life where I have the time to give back to my parish. I would love to be more active at my church. I miss being a sponsor for RCIA. I'd love to sign up for adoration. Heck, I'd even sign up to polish the pews. But I can't. I have a job and a child and a gazillion other immediate responsibilities.
So yeah… that little old "blue hair" you eye with suspicion is basically just picking up my slack.
When that day finally arrives where I have time to be more involved and give back, I hope to do all those things without being suspected of witchcraft and heresies. I'll just be hanging around and helping out to make up for lost time. I promise. My goal won't be to stink up the Church with the funk of my aging femininity, hoping to drive off as many men as possible from volunteering and being active in the Church.
Cross my heart.
So can we stop blaming old ladies for all the Church's problems now? Pretty please. Unless you want to be blamed for all Her problems in a decade or two or three yourself. Because believe me, I'm sure it won't be too hard for those scowling young fogies to find something to blame you for.