*Scroll down for updates posted 4/9/14 @ 1 p.m and for Bishop Jugis's statement 4/10/14.
… One final update on the shameful incident here in Charlotte.
Sr. Jane Dominic Laurel is on sabbatical and all her future talks have been cancelled. Some have speculated she's been thrown under a bus and shipped off to a re-education camp, and it certainly sounds like it. Well maybe not the re-education camp part, but it doesn't appear she's getting much support from Aquinas College.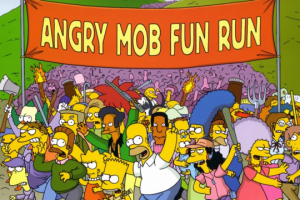 In her presentation, Sister Jane Dominic spoke clearly on matters of faith and morals. Her deviation into realms of sociology and anthropology was beyond the scope of her expertise. Sister is a trained theologian from a Pontifical University and has the credentials to contribute to scholarly bodies of work. This she has done in the past with distinction. The unfortunate events at Charlotte Catholic High School are not representative of the quality of Sister's academic contributions or the positive influence that she has had on her students. The students at Charlotte Catholic were unprepared, as were their parents, for the topic that Sister was asked to deliver. The consequence was a complete misrepresentation of the school's intention to bring a message that would enlighten and bring freedom and peace.

There are no words that are able to reverse the harm that has been caused by these comments. The community of Aquinas College is saddened by this extreme outcome and wishes to reiterate that this is not something the College condones or desires to create.
The students and their parents were unprepared? I think the words they are looking is "poorly catechized."
So Sister Jane Dominic is on a sabbatical. I'm glad she'll get a break from all this lunacy. In the meantime we can continue to pray for her and awesome Dominican nuns everywhere.
And for those who spoke ill of Bishop Jugis, and don't even deserve to have their garbage linked to, a response from the diocese Communications Director, David Hains.
CHARLOTTE, NC, April 7, 2014 (LifeSiteNews.com) – The bishop of Charlotte is backing a Dominican nun who has been at the center of a fiery controversy since last month when she gave a speech promoting Catholic teaching on sexuality to students at Charlotte Catholic High School.

After a public meeting with diocesan and school officials turned ugly, with parents and students alike shouting at administrators over what they perceived as "hateful" remarks criticizing homosexual behavior, divorce and extra-marital sex, a spokesman for the diocese told LifeSiteNews that the nun in question, Sr. Jane Dominic Laurel, did nothing wrong and will be welcome to speak on the issue again if she chooses.

"Nothing in Sister's talk opposed Church teaching," Diocese of Charlotte Communications Director David Hains told LifeSiteNews in an email. "Sister would be welcomed to speak in the diocese in the future."

Hains said Bishop Peter Jugis is expected to make further public comment on the situation soon.
Too bad the damage is already done. Sr. Laurel's reputation has been called into question and we've been robbed of her talks here in the diocese, for the time being anyway. But don't worry. Her course, The Rich Gift of Love, is still available for viewing on the Newman Connection website.
Here's an idea — a post a week devoted to each part of her course. Let's turn this incident into something constructive by promoting Sister Jane Dominic's work.
Related: Women of Grace – Sister Jane Dominic to Take Sabbatical, Sister Jane Dominic Laurel, OP, betrayed by her own? and Sister Jane Dominic Laurel – one strike and she's out?
UPDATED 4/9/14 — From Rebecca Hamilton,
It turns out that the LifeSiteNews story that I quoted in this post got things wrong.
Bishop Jugis did not make a statement in support of Sister Jane through his spokesperson, David Hain.
David Hain made a comment to that effect in Public Catholic's com boxes earlier today. I called Mr Hain and he actually did leave the comment. He told me that Bishop Jugis will issue a formal statement concerning what happened to Sister Jane soon.

As soon as that statement comes out, I'll publish it here.

Here is what David Hains wrote in the combox earlier today.

This post incorrectly spells of the name of Bishop Jugis both in the headline and several times throughout the article. As the Bishop's spokesman I can assure you that he has not issued a statement on the matter at this time, 4/9/2014. The statement you are quoting came from Father Roger Arnsparger, Vicar for Education in the Diocese of Charlotte. Thank you for your interest in covering this story.
Isn't this the craziest thing? Especially since no one was ever able to present what Sr. Jane Dominic actually said, except for the recounting of some indignant teenagers… always a reliable source.
Without evidence of what was said what is there to defend or apologize for, for that matter?
UPDATED – 4/10/14 @ 1 pm
In a statement released yesterday, Bishop Jugis writes that he is shocked over lack of charity.
Bishop Jugis' full statement, issued April 9, follows:
Dear Brothers and Sisters in Christ,

The past few weeks have been very difficult for Charlotte Catholic High School. We have all experienced a great deal of pain. During this difficult time I want to express my support and encouragement for all the parents, students, staff and faculty at the high school. We must move forward toward healing with charity, the hallmark of our Christian life.

Different viewpoints regarding Sr. Jane Dominic Laurel's presentation to students on March 21, 2014, have been discussed in a variety of venues.

At the parent meeting on April 2, 2014, many expressed concern about the lack of advanced communication with parents regarding the subject matter of the assembly. Apologies were made at the meeting for that lack of advanced communication.

The content of the Church's moral teaching was not raised as a matter of contention at the parent meeting. All of our Catholic schools are committed to hold and teach the Catholic faith in its fullness and with integrity. The Catechism of the Catholic Church contains an explanation of our faith and is accessible to all.

During this difficult time I support the continued work of Fr. Matthew Kauth, the chaplain; Mrs. Angela Montague and Mr. Steve Carpenter, the assistant principals; and Mr. Randy Belk, the dean of students; and all they are doing for our Charlotte Catholic High School students. All of us are indebted to them.

I am shocked to hear the disturbing reports of a lack of charity and respect at the parents' meeting, and outside the meeting in conversations and in social media. There simply is no room in the Catholic Church for such displays of uncharitableness and disrespect. If we have failed in this regard let us make amends to God and neighbor. Even when we disagree, that disagreement should be expressed respectfully in love.

We ask the Lord Jesus Christ for His mercy and His healing as we approach the celebrations of Palm Sunday, Holy Week and Easter Sunday of the Lord's Resurrection. Please be assured of our continued dedication to the mission to teach and live the truth of the Catholic faith at our Charlotte Catholic High School.

Sincerely yours in Christ,

Most Reverend Peter J. Jugis

Bishop of Charlotte
I still wish he had been there at that meeting and stared down the angry mob. I tend to think that the mob would have been far less mob like and more civil if he'd been present. I like to think that the parents wouldn't have dared behave like that in front of their Bishop. I'd like to think that.
I don't mean to question why he wasn't there and I trust his reasons were good. He's a good man and I've been personal witness to all the good that he's brought about in our diocese. I cannot muster a single negative thing to say about him, and if I could it doesn't belong in the public forum.
I just wish he'd been at that meeting. That's all.
Now back to Lent.