… I like stories like this. Stories of beauty and churches made to look the way they are supposed to. If it's a story about iconography, even better.
'It's not like Rembrandt. It's other worldly,' Father Leoniet Charlancow, a Rasifer monk at the Holy Trinity Monastery Icon Studio in central New York, said of the traditional style. 'It's supposed to transport you to another dimension, Heaven.'
When you step into a church, a holy place, it's supposed to represent something divine. Not a dinner hall or auditorium and most certainly not a community center.
That's why Fr. Theodore Jurewicz spent years transforming his church and covering every inch of wall space with images of the divine.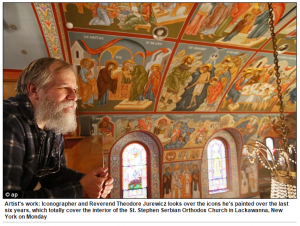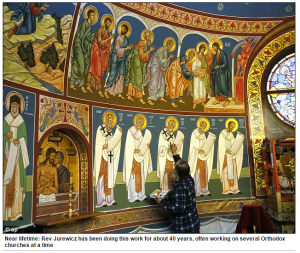 It's an interesting little write up that briefly discusses symbolism in icons and how their rise in popularity hasn't necessarily been a good thing.