… Aw, shucks. You guys.
I just wanted to give a big, fat "thank you" to everyone who donated and helped spread the word through your tweets, facebook shares, and blog posts.
I wasn't expecting anywhere near this much support. The extra donations are really going to help since I found out last night my car has absolutely no trade-in value – it was in a previous accident and I hold a total loss title on it.
I can use the extra for the taxes, title, and registration.
I just wanted to reach out here and let you all know how genuinely moved I am by the outpouring and kindness.
I've been looking online for cars and test drove a used SUV last night. I have my eye on a little something, so now comes the fun part…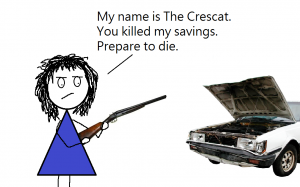 Actually fire is more my style. And explosives. I have always wanted to blow something up.