… Let's talk about apps.
I few weeks ago I broke down and purchased an iPhone. I really just wanted the My Fitness Pal app – which I'm happy to report, I've logged in for 29 consecutive days today. It's been exactly 4 weeks free of processed foods, soda, and dining out/fast food. I'm anxious to see if it's had any effect on my weight.
I digress. I'll save the reveal for the weekly diet post later.
This post is about apps.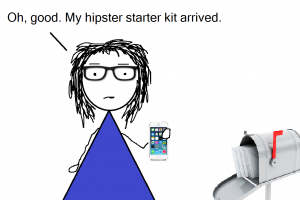 Catholic Apps
Have you wanted a subscription to Magnificat but thought it was on the pricey end? Well, their free app that has exactly the same material as in their print magazine. How 'bout that.
Laudate is another amazing free app that has everything in it. Everything. Prayers, novenas, the rosary, the Bible, Vatican documents, the liturgical calendar, daily readings, Latin prayers and the Douay Rheims! Seriously everything. The bookmark feature let's you keep the things you reference the most in one easy to find place without having to search through everything. Seriously everything.
Another app I enjoy is the Pray As You Go app. This app offers a daily prayer and reflection to listen to while you sit in traffic, do housework, or while you go for a walk.
The Essentials
These aren't exactly fun apps but they make life easier, like your bank's app that lets you make deposits by taking a picture of a check. Take a picture of the check and boom, you got money. It's like sorcery. Every time I make a deposit I feel like wizard.
I would also consider your cell phone carrier's app, and Waze (a traffic app) essentials, as well as Drop Box, Gmail, Google, and Wikipedia.
Fun Stuff
Netflix, so you can watch Doctor Who anywhere, Facebook and Facebook Messenger, Skype, Twitter, Pinterest, Instagram, Spotify or Pandora. (I got tired of including all the links, deal.)
Podcasts
Podcasts are my new favorite thing. I have a hellish commute every morning and listening to various podcasts takes the edge off. It helps me forget that I am stuck on the endless hamster wheel of daily drudgery.
The ones I've enjoyed the most are SQPN's Secrets of Doctor Who and Welcome to Night Vale.
What I am looking for now are productivity apps, maybe something with a better calendar than the standard one that comes already installed on the iPhone. I'd also like some meal planning apps or recipes apps. Maybe an exercise app. Maybe.
I'm open to suggests. So, what's on your phone?