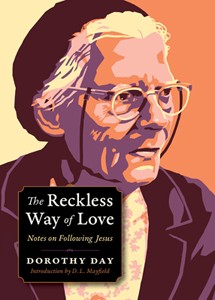 My friend the late Fr. Benedict Groeschel once said that if he weren't Roman Catholic he'd be a Quaker. It is, he said, the only other thing that makes sense. Personally, I'd join the Bruderhof (assuming they'd have me), and I suspect that my hero and model Dorothy Day might have said that, as well.
The Bruderhof certainly are fans of hers. One of the latest books from Plough Publishing House, the Bruderhof book imprint, is The Reckless Way of Love: Notes on Following Jesus. It's a collection of excerpts from Dorothy's writings, including two recent books edited by Robert Ellsberg, The Duty of Delight: The Diaries of Dorothy Day and All the Way to Heaven: The Selected Letters of Dorothy Day.
As with most compilation volumes published by Plough, the selections are carefully, even prayerfully chosen and meticulously organized. The Reckless Way of Love has five sections – A Way of Faith, A Way of Love, A Way of Prayer, A Way of Life, and A Way of Community – and each section features three or four topical chapters packed with Day's bracing wisdom. The book opens with a beautiful introduction by the writer D.L. Mayfield, whose work centers on "refugees, theology, and downward mobility."
Although I've read a lot of Dorothy, including her diaries and letters, the book is full of hidden treasures I had either never encountered or read through without noting. For me, a most precious and challenging gem was from her 1948 book,
On Pilgrimage
. One can almost hear Dorothy sneering as she regurgitates our trite excuses for withholding hospitality. But then she relents and identifies the real reasons:
Much hospitality could be given to relieve the grave suffering today. But people are afraid. They do not know where it will all end. They have all gone far enough in generosity to know that an ordeal is ahead, that the person taken in will turn into the "friend of the family," most likely, or "the man who came to dinner." No use starting something that you cannot finish, they say. Once bitten is twice shy. We have all had our experiences of ingratitude, of nursing a viper in our bosom, as the saying goes. So we forget about pruning in the natural order in order to attain much fruit. We don't want to pay the cost of love. We do not want to exercise our capacity to love.
If you have any degree of devotion to, affection for, or interest in Dorothy Day, The Reckless Way of Love is a must-have addition to your library. And at 125 pages, it won't take up too much space. We owe a debt of gratitude to our friends at Plough for this accessible yet challenging introduction to Dorothy's writings and Catholic Worker spirituality.