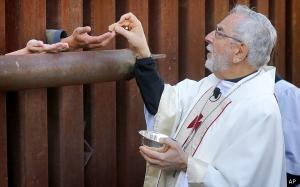 We all know the Mass-hopper: that restless type who constantly whines that he can't take one more of Fr. Ted's vanilla homilies at St. X's. Nor can he abide the horrible teen "praise" band ruining Fr. Jim's services at St. Y's. So that leaves Fr. Bob at St. Z's but have you ever seen an uglier sanctuary in your life? I mean, really.

I don't wish to be That Guy and yet my own recent Mass-hopping in my area doesn't seem to be driven by any liturgical nitpicking. It's really Pope Francis' influence.
We want a church which goes forth, as he puts it in Evangelii Gaudium, adding that "all of us are asked to obey his call to go forth from our own comfort zone in order to reach all the 'peripheries' in need of the light of the Gospel" (paragraph 20).
I started thinking about my comfort zone, which is my middle-class, leafy parish in smalltown Indiana, just south of Chicago. Then it dawned on me: culturally speaking, the peripheries come to my parish every Sunday at 1 PM, when a congregation of perhaps 500 Hispanic families arrives for the Spanish-language service.
One literally peripheral aspect of this group is the location of their Mass: in the small chapel at the opposite end of the church from our large sanctuary. Besides the linguistic gulf between our two congregations, our Hispanic parishioners—perhaps 170 (in a space which seats 125) as compared with the 700 or so at the English-language services–are mostly out of sight and out of mind for the rest of the parish.
Not that there are many recent immigrants among these families. Most of the adults work in the food industry or landscaping, some in area factories and plants. Most have been here for a number of years, and many can manage in English fairly well.
I first attended a Spanish-language Mass, armed with my 25-word Spanish vocabulary, several years ago on the Feast of the Virgin of Guadalupe. Everything seemed different and yet the same, as we would expect at practically any Catholic Mass worldwide. Instead of the usual overbearing organ music of our 10 AM service, a small mariachi band provided accompaniment, the hymns were from the wonderful bilingual
Flor Y Canto
hymnal, and the service ended with many of the congregants coming up to receive a rose before the statue of Our Lady of Guadalupe, in imitation of Juan Diego's gift of roses from the Blessed Virgin.
Since then, I've happily returned almost every Sunday to the Hispanic service—a kind of window, I like to think, into this wonderful but semi-hidden community in my own town.
I love sitting among these families at Mass. Older children patiently look out for the younger ones as needed; none of the teens look angry or alienated in some way. I sense a kind of cultural shyness around me when I get only the briefest of eye contact at the Sign of Peace.
And also perhaps a kind of innocence, what theologian Peter Casarella has referred to as "the healthier imaginations of the world's poor."
An image of the Blessed Mother is carried forward in the procession before each Mass and then placed on a table facing the parishioners. The chapel has no kneelers but almost everyone kneels.
Communion is likewise culturally distinct from the Anglo services: rather proceeding in an orderly row-by-row alignment, it resembles more of a slow, disorderly mingling in the direction of the altar. Interestingly, both the young presiding priest and the deacon at this service are Anglos speaking what sounds like pretty fair Spanish.
With a bilingual missalette, I can follow the rubrics of the Mass, including the readings, quite well. Once the homily begins, I'm resigned to understanding perhaps only 20% of the priest's words, although the percentage is (I think) slowly rising.
As I strain to follow the homily, I think of what it would be like to cross a border and suddenly be immersed in a culture whose language is still mostly opaque to you, that sense of isolation all non-native speakers can easily feel. I decide to have coffee with Maricruz.
Many immigrant communities have individuals known as "fixers", a rude term for someone as gracious and genuine as Maricruz, whom I know slightly through her German-born husband Nils. We meet at a local café and I explain I'm interested in learning more about the Hispanic community at our parish.
Maricruz first explains that she herself arrived in the U.S. from Querataro, Mexico in 2004 and for a time attended a parish in Detroit which had only monthly Spanish Masses because of the lack of priests. Now she and her family are quite settled in our town and she calls herself the "coordinator" of the parish Hispanic community. It has a few higher-income families, a few "in the middle," and most are lower-income. Many are from Jalisco, Guanajuato and Puebla, each with their own traditions and local devotions, she explains.
At her Friday rosary group, Maricruz and a dozen or other Hispanic women socialize and keep each other connected. "You are the sisters I used to have," she tells the others, thinking of the communities they left behind. "With this group, someone can easily say, I'm leaving town this weekend—please keep an eye on my kids."
She's aware some Anglo parishioners are wary of the Hispanic group, afraid to support "illegals." She thinks that probably a large percentage of our Hispanic parishioners have no papers. "It's only a guess," she tells me. "It's not something people talk about openly. Occasionally you hear somebody say 'I haven't seen my family in Mexico in X years' or 'I don't have a driver's license.'"
Back home, she tells me, life is still very different. All siblings in a family know to visit their parents' graves annually, there are no nursing homes, and we visit grandma every weekend.
How rarely we Anglo Americans grasp that the Latino presence here is a blessing, the creativity lying dormant within that presence, the Blessed Virgin as a hidden cultural force. We Catholics in particular have quite forgotten St. John Paul II's vision of one church—from Canada to Tierra del Fuego.
I ask Maricruz if she still prefers the Spanish Mass to the English one. She smiles to say, "Spanish is my language of prayer—that's the most important thing."