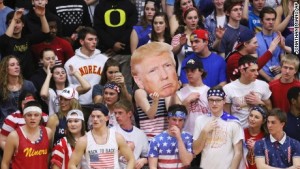 Our new bishop at the Diocese of Gary is a mild-mannered guy but lately he got really steamed about a high school basketball game and even made the national news.
Bishop Donald Hying was smacking down the behavior of student fans at a basketball game between two area Catholic high schools, one of which, Bishop Noll Institute in Hammond, has a predominately Latino population. During a game last Friday evening, students from the opposing school, Andrean (in Merrillville IN), held up a fatface sign of Donald Trump and repeatedly chanted "build that wall" and "no comprende." A photo of the fan section made it to Facebook and things thereafter, as we say, escalated quickly.
The episode mimics similar ones in Des Moines IA, where students at a public high school chanted "Trump! Trump! Trump!" –apparently now for the fourth occasion–after their team lost the game. School officials quickly halted the chanting.
Bishop Hying has called meetings at both Indiana schools in order to reinforce his statement that "any actions or words that can be perceived as racist or derogatory to others are antithetical to the Christian faith and will not be tolerated in any of our institutions."
Catholic schools generally attempt to hold students to a higher standard of behavior but we might wonder how far that is still true. These incidents reminded me of a chat I had several years ago with the principal of an boys' high school run by Opus Dei, where uniforms and mass attendance were part of the culture.
I asked him if he thought his school taught the students real character. He replied, "Well if you ask any of our guys to explain the sacrament of reconciliation, they can probably do that. Now if I could only get them to behave during basketball games…"
And in an election where racial undertones seem to be constantly bubbling under the surface, it's no surprise students parrot any and all forms of political outburst from adults. If the Catholic Church in America has become a mostly comfortable middle-class institution where engaging with our ethnically different neighbors is rare, then it's likewise unsurprising that the behavior of Catholic students is indistinguishable from that of non-Catholic kids. The rise of Trump trashtalk only makes this sad fact plainer.