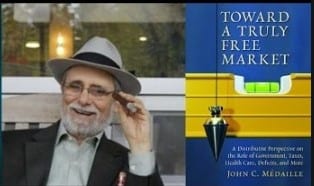 Asking what the term Catholic economics might mean strikes some people — too many, actually — as like asking whether there is such a thing as Catholic algebra or Catholic physics. The response is usually, "Don't you know? Economics has become a science, lotsa numbers, econometrics, blah-blah. It can't be 'Catholic' if it's just like the law of gravity."
The trouble is: the field of economics, as author and University of Dallas instructor John Médaille has cheerfully pointed out on numerous occasions, is in fact a branch of ethics and thus could be called a social science at best, although one which is suffering lately from theoretical confusion in many quarters.
It's also the case that the Catholic Church does not endorse specific economic systems, although it's plain to see that at times the Church pointedly does not endorse certain systems or regimes.
For example, despite Pope St. John Paul II's statements about capitalism (actually, about "the free economy") in the encyclical Centesimus Annus, he cannot be transformed into a cheerleader for the forms that late capitalism has taken over the last few decades.
Even less can Pope Francis' critique of neoliberal economic hegemony since the 1980s (see Evangelium Gaudii, for example) be somehow softened to mean that Catholics should separate finance and morality. As my Texas relatives would say, oh contrare.
To understand these debates around a Catholic understanding of not just economics but what was once called political economy, we are fortunate to have a village explainer in the form of Médaille. He is the author of possibly the only business school text grounded in Catholic social thought, as well as the best popular exposition of the philosophy of distributism, a social theory popularized by G.K. Chesterton and Hilaire Belloc a century ago.
Distributism, insofar as it is remembered at all today, has mostly become the hobby of pipe-smoking would-be Hobbits and diehard Latin Mass attendees.
And yet one sign of its potential vitality is shown in the efforts of two neoliberal institutions — the Acton Institute and (ironically) the Chesterton Society — to host "debates" at which distributism is unfailingly demonstrated to be quaint nonsense badly in need of a good Austrian re-education program.
Médaille's achievement was to bring distributism into conversation with modern-day economics — especially the Keynesian and Austrian schools — in order to update it, while leaving Keynes and von Mises looking rather the worse for wear.
Anyone interested in these issues can participate in a 90-minute Zoom seminar Tuesday, January 21, at 6 PM CST/7 PM EST, with John Médaille presenting on "the Just Economy."
A link to the Zoom event is here and a link to the text John will be basing his presentation on is here.
The seminar will be co-hosted by the Francesco Alliance and Solidarity Hall and is the first in what will be an 8-part series.