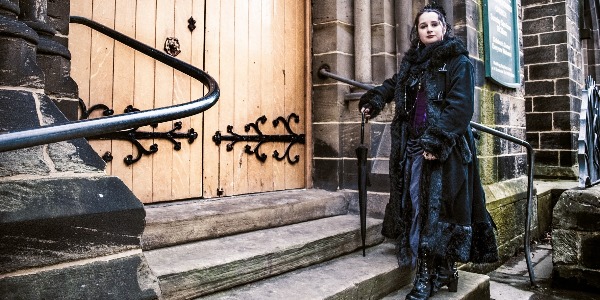 The Witch's Wardrobe
You are finally getting your witch groove on. Whether it is the upcoming Witch's Ball, a trip to historic Salem, MA or you are just ready to come out of the broom closet, finding your witch wear can be a real challenge. Here are some fantastic links and information on where to find your witch's wardrobe.
Let us start at the top! Finding the perfect witch hat can be an exhausting task. The floppy Halloween hats look cheap and we know every muggle with be sporting one for good fun. Where does the serious witch find an authentic hat? Look no further! Evercumbly & Witch is here to save your day.
Each hat made is a unique piece of art. You may see similarities in their work, but no two are ever the same. Their hats are made in certain assorted sizes so that you can find the perfect fit. The quality is amazing, much like I imagine of a hat crafter from back in the older days. They offer huge variety of their wares and customer service with a friendly smile. I cannot recommend this company for the perfect hat enough.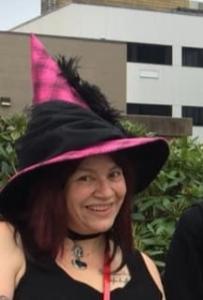 How many times I have looked for the perfect black dress. Holy Clothing makes dresses long, short and mid-length. Most of their dresses are made with rayon fabric making them fun and comfortable to wear. All of their clothing is hand-dyed and comes from India. If you order over $100 shipping is usually fast and free.
This is my favorite go to place. I never stop getting complimented on the dresses that I am wearing. If you use ALURAROSE15 when you check out, you will receive 15% off your order. They also have some jewelry, capes and coats. A perfect choice for any Renaissance Fair. Prices are reasonable.
We all know that Goth wear has a nice soft spot in the witch's heart and closet. Dracula Clothing is the perfect online shop to get your goth on. They have trendy corsets, inspiring dresses and stylish coats that scream inner queen…or king.
I really like the range of clothing that they carry. You can pick something out with confidence that you will be dressed unique. I personally adore their dragon bolero and evil queen coat. This store is sure to become one of your favorite places to shop.
A new store, located on the Pickering Wharf in Salem, MA, there is lots of goth and witchy explosions going on here. Check out their website if you cannot make the trip. This shop keeps in the theme of Goth but face it, we LOVE goth. They have had a wonderful collection of Tarot dresses to skull pattern leggings. They also carry trendy pins, shoes, t-shirts, coats and more.
I should also mention that they have fun purses. This is where I got my Apple purse. I have received countless compliments on this unique treasure.
This shop is also located in Salem, MA but has a nice website to pick from as well. Their clothing imitates vintage looks that are fun and creepy all in one, sure to please any witch's heart. Not only do they carry dresses, but also fun handbags and shoes. The dresses are elegant but easy to care for.
Looking for a cape or a cloak? Look no further. Beth and Cassie will have you fitted in no time. Each cloak is created with expertise and love. They do custom orders if there is something that you are thinking of but cannot find, but they also have a large, revolving line. Definitely worth checking out if you are looking for a cloak to keep you warm on those chilly nights as you wait your turn to dance around the fire.
I hope this list gets you started as you gather your witch's wardrobe.