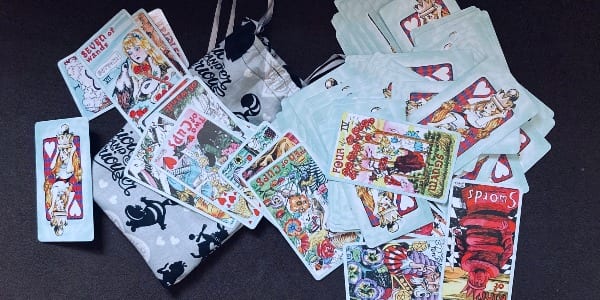 The Queen Alice Tarot
The Queen Alice Tarot is a deck that I stumbled upon quite by accident. I had been going through images on google periodically. Always looking for a new addition to my collection or better yet, that one unusual deck that would be 'the one' that called to me. For years now, I have been using the Rider-Waite Tarot. It's a good solid classic but being the unique and crazy person that I pride myself to be, the Rider-Waite was too common for this professional reader. I wanted something that accented my personality. Even better, if it was in or close to the realm of my passion, fairy tales. Can you imagine my excitement when I caught a glimpse of this deck?
Dame Darcy
Dame Darcy is the artist, illustrator, creator of this Tarot. Though, her talents do not stop there. Also, an alternative cartoonist, animator, filmmaker, the list goes on and on. Dame Darcy is most recognized for her comic book series "Meat Cake" but her graphic novel "Handbook for Hot Witches" is definitely worth mentioning. The Queen Alice Tarot is Dame Darcy's second Tarot works to be completed at this time.
The Good, the Bad and the Ugly
Queen Alice Tarot is definitely a one of a kind on the uniqueness meter. It's cartoon style makes it light and fun. For me this was a welcome sight and called to me immediately but for others, it may become a challenge if too used to the typical symbolism in the Rider-Waite. You will find some similarities but you have to work to see them.
This deck is beautiful to hold and to look at. Exquisite silver gilding line each corner edge. Glossy finish make the cards shine delightfully. The card stock is much thicker than the normal tarot deck. Using my tarot deck as much as I do in public readings, I find this a nice feature. I know they will hold up to years of wear but to some that are not used to working with this thickness, could find it too stiff. I would recommend working with the cards just as you would any deck, to loosen it and give it more ease when shuffling.
The one thing that I am slightly disappointed in, is that no physical book accompanies this deck. However, if you go to the link that is included in the box, you can print out as many booklet sheets as you wish. The booklet is not very in depth. This does force you to really spend time with the cards to make them your own (as you should be doing anyhow).
Overall, I am personally in love with the Queen Alice Tarot giving it a 4.8 out of 5 star rating.