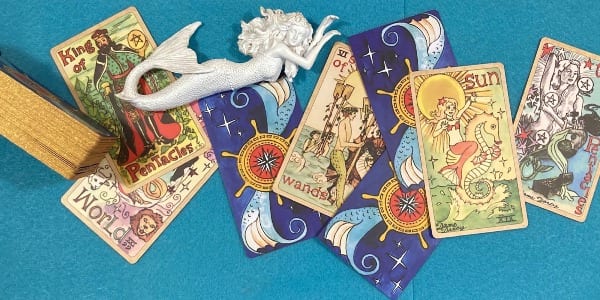 Greetings and welcome to another Tarot Tuesday. Hopefully, here you will discover some Tarot decks that you are not yet familiar with. The search for new (sometimes old) and unique Tarot is always on and I hope that you will like some of the ones that are not always in the lime light. Last week, we took a look at one of my favorites, "The Queen Alice Tarot." This week, we will take a look at the successor of that deck, "The Mermaid Tarot."
Dame Darcy
First, let me just review about the artist of both the decks. Dame Darcy is the artist, illustrator, creator of this Tarot. Though, her talents do not stop there. Also, an alternative cartoonist, animator, filmmaker, the list goes on and on. Dame Darcy is most recognized for her comic book series "Meat Cake" but her graphic novel "Handbook for Hot Witches" is definitely worth mentioning. The Mermaid Tarot is Dame Darcy's first Tarot works to be completed, followed by The Queen Alice Tarot. Rumor has it, that she is currently working on a new deck, but I am sworn to secrecy. I will give you a clue only to say that Witches are going to love this one as well.
The Mermaid Tarot
Where do I begin? This deck is a-m-a-z-i-n-g. I had caught wind of it a few years back but was disappointed that it seemed out of print. Well, good news peeps, it seems to be put again. Mermaid images line the matte finished cards to help the diviner with his or her reading. Anyone who is called to mermaids will want this deck, whether it is for their collection or to use. The cards are a bit thicker. I personally, love the thicker cards as they hold up much better personally but some will have trouble shuffling and that can be a downfall. If you let that sort of thing get to you.
The backing of the cards are a ship's wheel in vibrant colors. Gold gilding lines the edges of the cards though it looks more like copper to me (which I am delighted with). The packaging is also beautiful. The cards come in a sturdy box that has a flip magnetic flap.
Besides mermaids, you will see an occasional trident for a sword. Other characters are dressed to remind of an Apollo (Roman or Greek) Era. The look and feel of the cards themselves, is wonderful. They are the typical Tarot size measuring 2.75″ by 4.75″.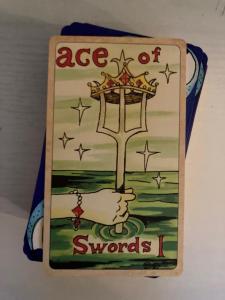 The Good, The Bad, The Ugly
I love the feel and look to these cards. It may be different for those who have never had a deck that did not have a gloss finish. At first, I wasn't too sure but the colors may have been overwhelming if it was not for the matte finish. Again the cards are a thicker size (350 versus the typical but not always 330). The thicker size will hold up much better, especially if you are a professional reader and use them everyday. They can be a bit hard to find as they sell out quickly. Searching and putting energy into the perfect deck can be rewarding though. Overall, I give the Mermaid Tarot a 4.5 out of 5 star rating. Loved it and believe that any mermaid lover will too.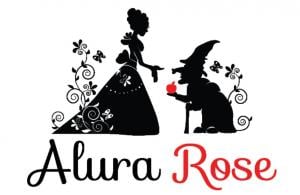 Website / Facebook / Book a Reading