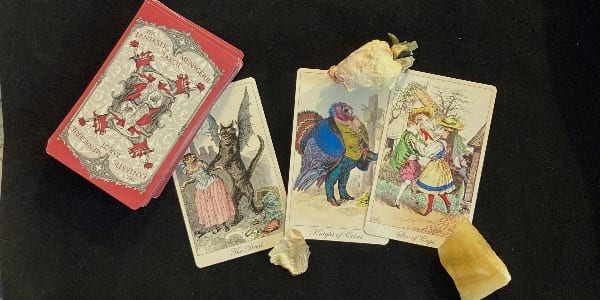 Hello and welcome to Tarot Tuesday on The Fairy Tale Witch's blog. Each Tuesday, I will be taking a look at a different Tarot, all while giving some feedback, advice and tidbits as I review a unique and unusual deck. I hope you have some fun and enjoy my insight. For now, pull up a chair, grab a cup of that aromatic herbal tea and sit for a spell… all in the comforts of your home.
The Fantastic Menagerie
The Fantastic Menagerie (published 2006) is a Tarot deck from Baba Studio World. If you have never checked out their store, you will be in for some delight and perhaps some disappointment. The delight is that they offer very unique and beautiful Tarot decks, along with bags and other accessories. Most of the decks are outstanding, and the Fantastic Menagerie is no different (back to that in a moment) but the disappointment is that their Tarot decks are often sold out due to a limited number being made.
In itself, it is nice to obtain a deck that retains its value, and then some. Usually the sought after price once a deck had been sold out. doubles and even triples in value, but if you hesitate to purchase or miss out due to lack of keeping up with their releases, you will find disappointed in trying to gain the deck with reasonable assets.
For instance, the first edition of The Fantastic Menagerie most likely sold for under one hundred dollars (none of my research could confirm the amount of the original deck) and now goes for anywhere from nearly $300 used and up.
Good News
The Good news is that every once in a while, Baba Studios will do another printing of an out of print deck. They change it by adding or taking away color, cold stamping or something else to make it slightly different. This is great for collectors as it offers something different and also to those who may have missed out first time around.
This is the case of The Fantastic Menagerie. Baba Studios is making a second edition available currently.
The Buzz
The Fantastic Menagerie Tarot has a lovely storybook feel to it. The images are based on illustrations of 19th century French illustrator, J.J. Grandville. Grandville had huge influence over the original illustrator of Alice and Wonderland, John Tenniel. The deck is perfect for the fairy tale guru or collector.
Like many of Baba Studio Tarot Decks, this deck is not influenced by the popular Rider-Waite style of Tarot. It is not as easy to pick up and go but every good reader knows that you have to spend time with any deck to make it yours. The Fantastic Menagerie is no different. You will find that it is worth sitting with. You may even find yourself drifting off to another realm or fantasy as you do.
The Good, The Bad, The Ugly
The standard size of this deck (edition one at least) is a bigger size than most Tarot. It measures 3″ x 5″ (most Tarot decks are 2.75″ x 4.75). Because of its slightly bigger size, the cards may feel thin. In fact, I do wish they made them a bit thicker but as a professional reader, I am always thinking about how well they will wear.Though, I do believe that they are the standard thickness.
That being said, I did find that they bent a little too easily to use in any way, other than personal use. I do however, believe that they are worth the purchase. They Fantastic Menagerie Tarot is fun, unique and entertaining to the young as the old.