WHENEVER disaster occurs, the religious press desperately scrabbles about for supernatural angles – and yesterday the National Catholic Reporter found one relating to the horrendous explosion that took place in Beirut that killed at least 135 and injured thousands.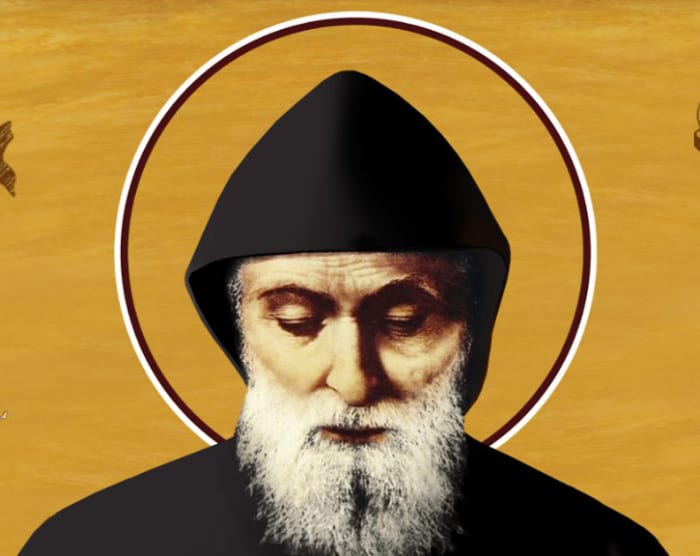 In response to Lebanon's Prime Minister Hassan Diab announcing that today (Wednesday) will be a day of mourning across the country, the NCR said it's likely that the country's Christian population of around 35 percent will be praying to Lebanon's patron saint, St Charbel Makhlouf, above, Lebanon's patron saint who has been responsible for "thousands of medically-verified healings."
A couple of years back Fr Louis Matar, coordinator of the Shrine of St Charbel in Annaya, claimed that the saint:
Is a tool to reach God. St Charbel has no geographic or confessional limits. Nothing is impossible for [his intercession] and when people ask [for something], he answers.
What's more, he's an equal opportunities healer. Charbel, said Matar, has "miraculously" cured many Muslims.
Since 1950, the year the Carbel monastery began to formally record the "miraculous healings," they have archived more than 29,000 "miracles," Matar said.
Prior to 1950, miracles were verified only through the witness of a priest. Now, with more advanced medical technology available, alleged miracles require medical documents demonstrating the person's initial illness and later, their inexplicable good health.
One of the "miracles" documented by Fr Matar in December 2018 was that of a 45-year-old Italian woman. Suffering from a neurological disease, she was hospitalised after it was discovered she had tried to commit suicide by consuming acid.
In the hospital, the doctors discovered that the damage to her oesophagus and intestines was so extensive that:
The last way possible to cure her was believing in God and praying.
The woman's parents began to pray, inviting others to pray with them. A religious sister of the Maronite Catholic Church heard about the prayer request and gave them holy oil from St Charbel's shrine. After her parents spread the oil on the suffering woman's stomach, chest, and head, the woman was cured.
This was just one of seven miracles archived in December, Fr Matar said, calling each one "a phenomenon."
Charbel was canonised in 1977 by St Pope Paul VI.
• Please report any typos/errors to barry@freethinker.co.uk
If you'd like to buy me a cup of coffee – and boy, do I get through a LOT of coffee keeping this site active – please click the link below. I
I'd love a cup of coffee