A MICHIGAN pastor with a deplorable history of drunken driving is now in jail, awaiting trial for attempting to murder two Arenac County sheriff's deputies by smashing into their vehicle.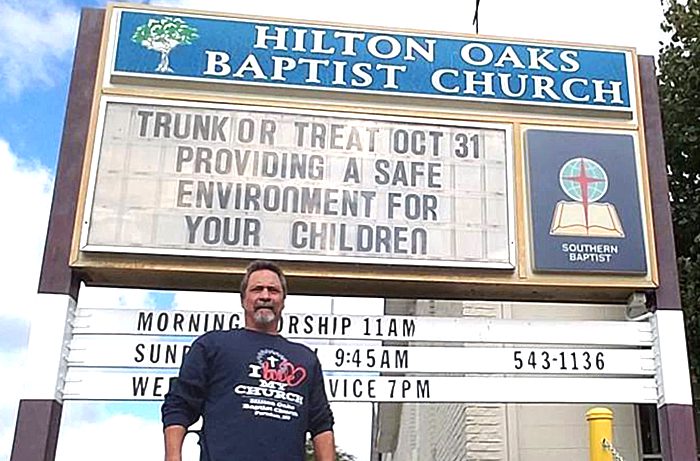 David Jones, above, of Hilton Oaks Baptist Church in Ferndale, has eight drinking and driving offences on his record, the last committed in August this year. He being held on a $1 million bond.
According to this report, he was arrested last week after refusing to co-operate with the two deputies who were called to a convenience store where Jones was allegedly found slumped drunk in his car.
Moments later, they say Jones took off across a highway, pulled into a parking lot and then slammed his car into the back of a building. He then turned his vehicle towards deputies.
Arena County Undersheriff Don McIntyre said:
If you turn your vehicle around and intentionally collide with a police vehicle, you are going to be charged with attempted murder on police.
Even after the crash, Jones refused to get out of his car. Police say they had to break the windows.
Commenting on the Hilton Oaks Baptist Church/Ferndale Bible Church Facebook page, Thomas BoPerna wrote:
You should be praying for your hypocrite, drunk-driving asshole of a pastor. Lock this hypocrite mother-f*cker up. EIGHT DUIs?! What's going to happen when he kills someone. He needs to be in jail forever.
Damien Miller replied:
This clown "pastor" is very lucky the officers didn't blast him when he was trying to run them down.
And Helen Anderson asked:
How on earth can you employ a man that has 8 prior DUI's? And now he is charged with trying to murder the police. I know forgiveness is divine, but that's just bloody ludicrous. Pastor David Jones will end up killing someone one day with this kind of drunken, foolish behaviour.
There's a biblical quotation that Hilton Oaks should now post on its massive billboard:
…. The priest and the prophet reel with strong drink, they are swallowed by wine, they stagger with strong drink, they reel in vision, they stumble in giving judgment: Isaiah 28:7
• Please report any typos/errors to barry@freethinker.co.uk
If you'd like to buy me a cup of coffee – and boy, do I get through a LOT of coffee keeping this site active – please click the link below.
I'd love a cup of coffee