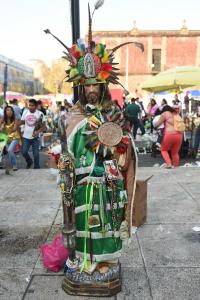 Pew Research Center, for which I have served as an academic consultant, has published seven key facts about American Catholics, which I have included here in bold type followed by my own analysis in standard type.
The Catholic Church is larger than any other single religious institution in the United States, with over 17,000 parishes that serve a large and diverse population. In spite of its size and influence, the church in recent decades has faced a number of significant challenges, from a decline in membership to a shortage of priests to continuing revelations that some Catholic clergy sexually abused minors and (in many cases) that their superiors covered up these actions.
Here are seven facts about American Catholics and their church:
1 There are roughly 51 million Catholic adults in the U.S., accounting for about one-fifth of the total U.S. adult population, according to Pew Research Center's 2014 Religious Landscape Study. That study found that the share of Americans who are Catholic declined from 24% in 2007 to 21% in 2014.
Until now the Church in the U.S. had avoided the rapid decline in membership that has been taking place for decades in Latin America. During the first couple year of Francis's papacy there was much talk of a "Francis effect" in which pews were supposedly filling with lapsed parishioners excited about the Argentine pontiff's charisma and mission. However, if there is any "Francis effect" at all it's a negative one, especially in Latin America where new polling data reveals continuing if not accelerated losses during his papacy.
2 Catholicism has experienced a greater net loss due to religious switching than has any other religious tradition in the U.S. Overall, 13% of all U.S. adults are former Catholics – people who say they were raised in the faith, but now identify as religious "nones," as Protestants, or with another religion. By contrast, 2% of U.S. adults are converts to Catholicism – people who now identify as Catholic after having been raised in another religion (or no religion). This means that there are 6.5 former Catholics in the U.S. for every convert to the faith. No other religious group analyzed in the 2014 Religious Landscape Study has experienced anything close to this ratio of losses to gains via religious switching.
One of the main reasons for the greatest net loss due to religious switching is the lack of marketing of the faith. While the American Church has been much better than its Latin American counterparts in advertising Catholic services and goods to the public, it's still in the stone age compared to American Evangelicals and Charismatics who masterfully market their brands on TV and social media. This is part of the reason why Pope Francis has ordered clergy to leave the comfortable confines of their offices and go out into the world to evangelize.
3
Catholics in the U.S. are racially and ethnically diverse. Roughly six-in-ten Catholic adults are white, one-third are Latino, and smaller shares identify as black, Asian American, or with other racial and ethnic groups. The data also show that the share of U.S. Catholics who are Latino has been growing, and suggest that this share is likely to continue to grow. Indeed, among Catholic Millennials, there are about as many Hispanics as whites. (For information on the demographic characteristics of U.S. Catholics, including age, education, income and more, see "America's Changing Religious Landscape.")
The future of the American Church is clearly a Latinx one as the percentage of Hispanic Catholics continues to rise steadily. Besides their faith-inspired commitment to lobby on behalf of Central American and Mexican immigrants, U.S. bishops are well aware of the demographic shift taking place in the pews and wisely adopt a preferential option for Latinx parishioners. With only 3% of Catholics being each Black and Asian, church membership in the U.S. is essentially Latinx and White.
4
Compared with some other religious groups, Catholics are fairly evenly dispersed throughout the country: 27% live in the South, 26% in the Northeast, 26% in the West, and 21% of U.S. Catholics live in the Midwest. Since many American Hispanics are Catholic, the continuing growth of this community as a share of the U.S. population is gradually shifting the geographic center of U.S. Catholicism from the Northeast and Midwest to the South and the West. Indeed, three-quarters of Hispanic Catholics reside in the South or West, while six-in-ten non-Hispanic Catholics live in the Northeast or Midwest. Overall, the share of U.S. Catholic adults who reside in the Northeast and the Midwest declined by 5 percentage points between 2007 and 2014 (from 53% to 48%), while the share of Catholics who live in the South and West grew by an equal amount (from 47% to 52%).
The shifting geographic center of American Catholicism due to rising Latinx influence means the new urban centers of gravity of the Church are cities such as Los Angeles, Houston, Phoenix, and Dallas. The old urban bedrocks of American Catholic life, such as Boston and Baltimore, are fading in national prominence.
5
Many U.S. Catholics say they want to see the church make significant changes. For example, six-in-ten say they think the church should allow priests to marry and allow women to become priests. And nearly half of U.S. Catholics say the church should recognize the marriages of gay and lesbian couples. Support for these kinds of changes is lower – though still substantial – among Catholics who attend Mass regularly than it is among those who attend Mass less often.
The global nature of the Church makes these type of progressive changes that many American and European Catholics favor difficult. The future of Catholicism is in the Global South, especially Africa, where attitudes on sexual and social issues are significantly more conservative. Pope Francis's relatively progressive agenda has faced well organized and relentless opposition from bishops across the globe, including American and European prelates, so the future does not bode well for those who favor married priests, female clergy, and recognition of gay marriage, among other major changes.
6 Politically, Catholic registered voters are evenly split between those who identify with or lean toward the Democratic Party (47%) and those who favor the GOP (46%). In their partisanship, U.S. Catholics are deeply divided along racial and ethnic lines. Most Hispanic Catholics identify with or lean toward the Democratic Party, while 54% of white Catholics today identify with or lean toward the GOP.
White and Latinx Catholics tend to worship not only in separate parishes but also have very different political profiles. While Latinx Catholics voted overwhelmingly for Hillary Clinton, 60% of White parishioners voted for Donald Trump. In fact, despite all the media reporting on Trump's overwhelming support among White Evangelicals, it was White Catholics in the key swing states of Michigan, Ohio, and Pennsylvania who swung the election in his favor. 51% of White parishioners approve of Trump's performance as president while only 17% of Latinx do!
7 Large majorities of U.S. Catholics have admired Pope Francis throughout his tenure, but there are signs of growing discontent. The latest Pew Research Center polling, conducted in January 2018 (long before the latest revelations about sex scandals in the U.S. Catholic Church), found that the share of U.S. Catholics who gave Francis "excellent" or "good" marks for his handling of the sex abuse scandal in the church was 10 points lower in 2018 than it had been in 2015 (45% vs. 55%). The January 2018 survey also found that disenchantment with Pope Francis was especially pronounced among Catholics on the political right (i.e., among those who identify with or lean toward the Republican Party).
As a pope who's embraced left-leaning Liberation Theology it's no surprise the Latin American pontiff is not popular among the White Catholic political right. However the graver problem is the growing disenchantment among many Catholics who have found his progressive agenda appealing. As I've stated on numerous occasions even before the latest scandals, the mishandling of the endemic plague of sexual abuse perpetrated by members of the clergy has been his great Achilles' heel, which now threatens to undo his unprecedented papacy. Nothing less than a real policy of zero tolerance in which predator priests are handed over to civil authorities for prosecution and Church files are opened for public scrutiny is in order, though even these measures might be too little too late to rescue his imperiled papacy.