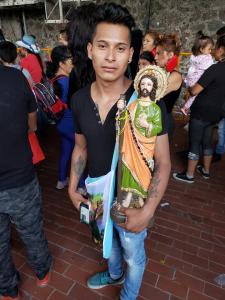 As a specialist in the Mexican religious landscape I had visited the Saint Jude shrine in Mexico City several times, but this time I was fortunate to be in town for his annual feast day on October 28. I had come to Mexico City for research on Day of the Dead, but there was no way I was going to miss the annual fiesta of Mexico's most popular Catholic saint, the patron of lost causes, so I headed to San Hipolito Church to witness the colorful commemoration.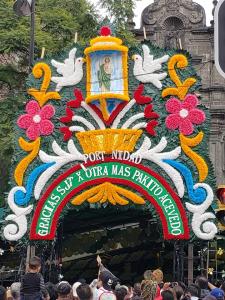 Practically unknown in Mexico before the 1980s, Saint Jude Thaddeus has catapulted to the top position among Catholic saints in the country with the world's second largest Catholic population, which is about to surpass Brazil for the top spot. No other Catholic saint rivals the popularity of San Judas. Only the Virgin of Guadalupe and folk saint Santa Muerte can compete with St. Jude for Mexican souls. And over the past decade, competition between the nation's number one Catholic saint and its top folk saint has become very intense, to the point that St. Jude in Mexico is now the only Catholic saint in the world who has a monthly feast day.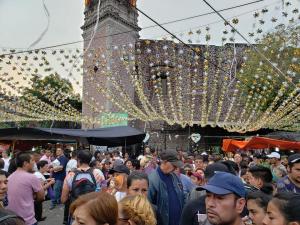 Until a decade and a half ago, the green and white cloaked saint only had an annual feast day — October 28 — exactly like his thousands of fellow Catholic counterparts around the world. However, the unexpected emergence of Santa Muerte, a new grassroots saint personifying death, changed everything. Just a few miles down the road from the famous St. Jude shrine in Mexico City at the San Hipolito Church, Santa Muerte pioneer Enriqueta Romero (affectionately known as Doña Queta) for nearly two decades now has been holding a monthly rosary service dedicated to the skeleton saint.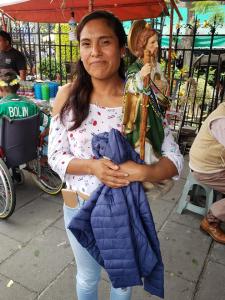 In fact, on Halloween of 2019 she celebrated the 18th anniversary of setting her life-size effigy of the Bony Lady out on the sidewalk in front of her home in the notorious barrio of Tepito. As related to me by the rector of shrine, it was in response to new competition from the saint of death that enterprising priests at San Hipolito Church decided to initiate St. Jude feasts celebrated on the 28th of each month.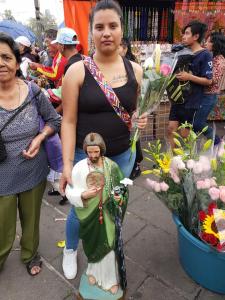 As seen in my photographs of St. Jude's annual feast day on October 28, 2019, the celebrations of the patron of lost causes are wildly colorful affairs with devotees from all walks of Mexican life, but especially the working classes, lugging life-sized statues of the saint of last resorts, and many others dressed in his signature green and white garb, which are two of the three colors of the Mexican flag.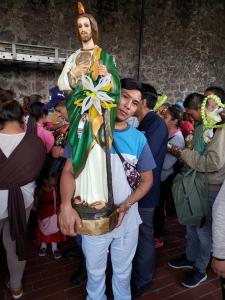 What really stands out at the annual and monthly fiestas attended by thousands is the presence of marginalized Millennials, hundreds of whom smoke marijuana and huff glue on the sidewalks that abut the temple. Ironically, the saint who is depicted with the flame of the Holy Spirit on his forehead, also has a reputation for healing drug abusers. In fact this has been an important part of the ministry at San Hipolito Church, which now promotes a line of Saint Jude mineral water.
The strong contingent of marginalized youth and even criminals makes San Judas every bit as fascinating as the Bony Lady down the road. In theory, one of Santa Muerte's strong appeals is that since she isn't a Catholic saint, some devotees feel freer in asking her for unsavory favors. However, it turns out that even though he is a canonized saint, Jude is also often asked to perform miracles that don't square with Christian standards of morality.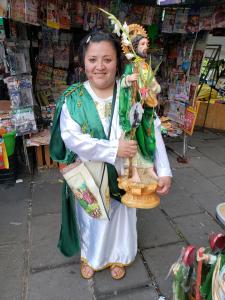 This has become such a concern to the Catholic Church that in 2008 the Archdiocese of Mexico City released a statement warning against such unorthodox practices. One such unorthodoxy is the belief by more than a few devotees that when St. Jude is represented with the iconic staff in his left hand, he is open to left-handed prayers and petitions that he would never consider with the staff at his right.
In what follows I will comment on the photos I shot during the celebration of St. Jude's feast day in Mexico City. Riding in the backpack of a devotee, San Judas is one of the most portable Catholic saints in Mexico. Believers bring their statues to the shrine to be blessed.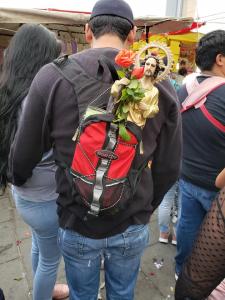 Some devotees express their devotion to the patron of lost causes by fashioning hand crafted statues, such as this one made from papier maché.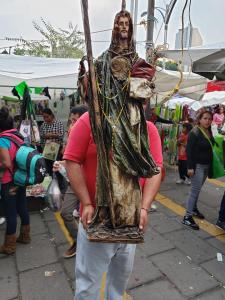 Mexican devotees are fond of adorning and dressing up their saints like this statue covered with rosary necklaces and scapulars, both of which are sold in abundance on and abutting church property.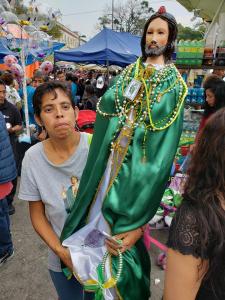 I was struck by how tenderly this middle-aged devotee held his unique statute for the photo-op.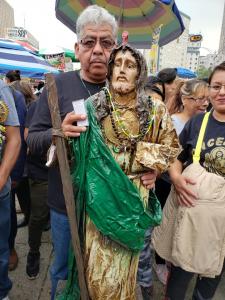 Of the diverse demographics present young working class men in their 20s and 30s seemed to be disproportionately in attendance.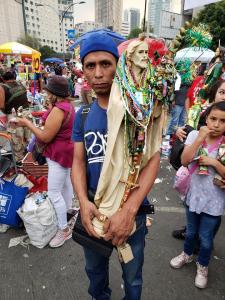 Flowers are an important part of religious celebrations in Mexico and as such this young devotee is clutching a white rose, symbol of purity.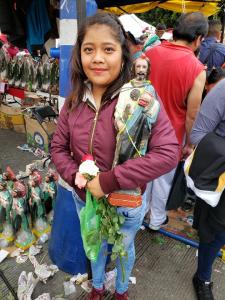 This devotees melancholic earnestness and unique St. Jude satchel caught my attention.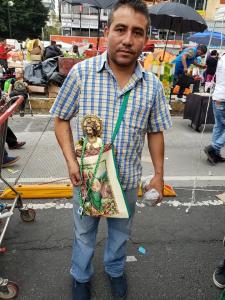 This devotee sports the classic accoutrements for young male devotees – baseball cap, backpack and heavily adorned statuette.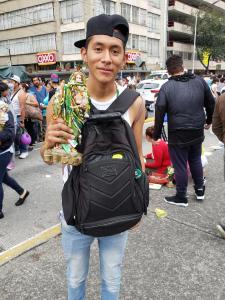 As part of the tenderness on display with which devotees care for their images of the saint many cradle him as if he were an infant.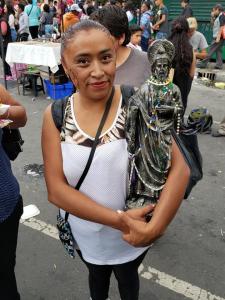 Some devotees will bring along the statuette of a friend or family member who's unable to attend. This young man brought his mother's, the one on the far right, to be blessed during Mass.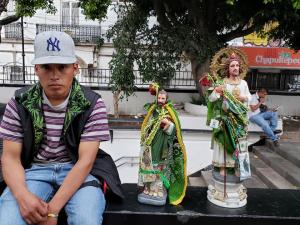 Even life-size statues are present, ones that in some cases have been brought from great distances across the largest city in the Americas.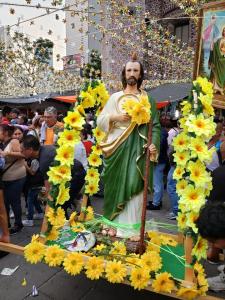 This statuette of Santa Muerte was for sale on church grounds even though Catholic clergy in Mexico condemn her on a near-weekly basis.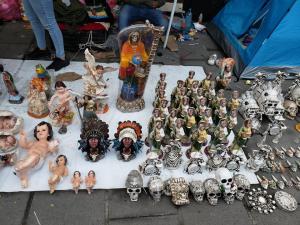 Thousands of images of the patron of lost causes are for sale both on church property and on adjacent sidewalks and street corners.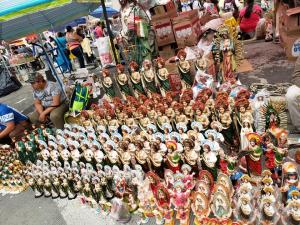 A couple blocks away from San Hipolito Church I came across a St. Jude shrine being fêted by Aztec style dancers known as "Concheros."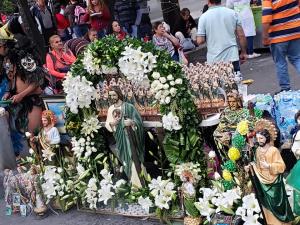 I had seen Concheros many times at both Santa Muerte events and the Basilica of the Virgin of Guadalupe, but this was the first time I saw them connected with St. Jude.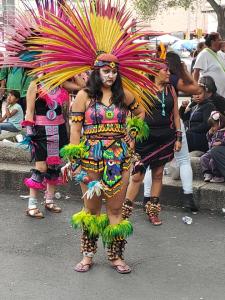 Some donned death images since Day of the Dead was just a few days away.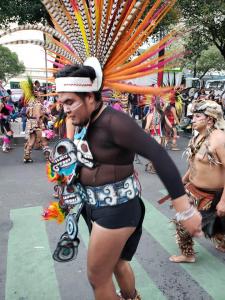 I was struck by the integration of elements of Indigenous spirituality when the cult of St. Jude is of such recent vintage in Mexico, only since the 1980s when Colombian narcos apparently imported him.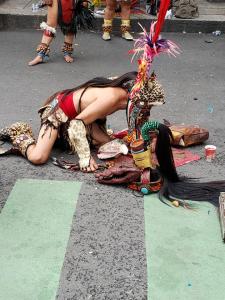 Alligator heads, jaguar pelts, and the aroma of copal and sage linked the Middle Eastern saint to an imagined Aztec past.