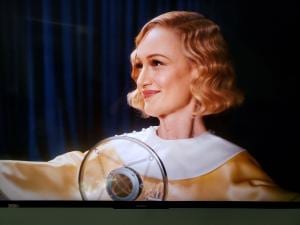 What really struck me in the second episode of Penny Dreadful: City of Angels is the religious feminism. Each of the three major faith traditions depicted in this episode and probably throughout the season are presided over by powerful women. The newcomer in this episode is Sister Molly, a charismatic Pentecostal radio evangelist who leads her own church and radio program in the City of Angels. Sister Molly is based on Canadian-American Pentecostal evangelist Aimee Semple McPherson who was a female Pentecostal pioneer in taking the gospel of faith healing on air in a thoroughly patriarchal Evangelical milieu which almost a century later is still dominated by men. Sister Molly's mother oversees the influx of generous tithes and offerings while the blond "Holy Angel' herself belts out inspirational hymns and flirts self-confidently with LAPD detective Tiago Vargas.
Vargas's mother Maria, the family matriarch, is both Catholic and a devotee of Santa Muerte and as such is the chief protagonist of both religious traditions in Penny Dreadful. By day Maria prays the Catholic rosary at the hospital bedside of her moribund son. Under the cover of darkness, however, her prayers turn to the "Holy Mother of Death" who materializes in the hospital room at the end of Maria's soulful supplication.
That the main Santa Muerte devotee is also a Catholic woman reflects the reality of devotion in both Mexico and among Latinos in the US, the majority of whom still identify as Catholics even though the Church in Mexico condemns veneration of Santa Muerte as satanic on a weekly basis. Back in the 1930s the Catholic identity of Santa Muertistas was even stronger than now, and anthropologists coming across devotees in Mexico (none were reported in Los Angeles then) report them to be almost exclusively female, in accord with Maria's role as the chief practitioner in the TV-noir series.
The feminism of Santa Muerte veneration is reinforced by supernatural sisters Magda and Santa Muerte who really should be seen as two distinct manifestations of the same Skeleton Saint, Magda as the sinister Lady in Black and Santa Muerte herself (based on the Spanish Virgin of Macarena) as the good Lady in White. As in the first episode, here the conniving Magda completely overshadows her milder sister who gets but 3 seconds of screen time at the end of the show. Appearing again as a shape-shifter, playing both a German seductress and American political consultant, Magda sets race against race, brother against brother as a dark Angel of Death. While thus far Penny Dreadful: City of Angels has not been as engaging as previous seasons, the gynocentrism of the three major religious traditions is certainly an intriguing development.