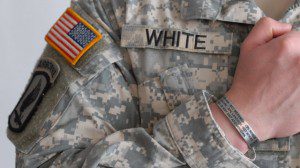 It's America's highest military honor, given for extreme valor and going above and beyond the call of duty. And this week, a man named Kyle White was awarded the Medal of Honor.
When I served in the Marine Corps, I was taught to always salute officers, [insert dramatic pause] and Medal of Honor recipients (regardless of their rank). The award reflects the actions of a man in combat which are worthy of the highest respect we can give them.
As I listened to the words of White this week, I felt like he was sharing important wisdom for all of us. His story is one which contains several meaningful truths we can carry into the workplace (and many other areas of our lives).
Live well, and with honor
White said that he owes it to his comrades, both those who died in the battle and those who survived, to live well, and with honor. He recognizes the sacrifice made by everyone on the team, and feels an obligation to make sure those sacrifices weren't in vain.
In business we should take advantage of every moment. This is driven by selflessness and a respect for those who work or serve alongside you. When we give our work our best effort, we not only help ourselves and the organization, but also our teammates.
Trust your team
Team comes before self . And trust is vital to a good team. White (as do many Medial of Honor recipients) pointed out that the award is more of a team award rather than an individual one. He called it, "a testament to the trust we have in each other and our leaders." White not only knew that he could have confidence in his teammates, but also that his teammates could have confidence in him.
This is about trusting those you work with. It also means you should be a person of integrity so your teammates know they can trust you. Without this kind of mutual trust, team production can deteriorate quickly. Being on a team means that you have each other's back. Strong teams communicate well, and don't leave things up to guesswork.
Go boldly into enemy fire
White and his squad were attacked when walking a through an area known as "ambush alley." You don't walk through a place like that and expect that it'll be an easy path. Rather you expect that you'll get attacked. You go bodly expecting the worst. You can't let your guard down. And when the attack came, White was dodging bullets as he pulled his teammates to safety and radioed for help.
In our work, there is always the chance we'll encounter obstacles and enemy fire flying all around us. Even with the simplest of tasks and projects, you should be prepared for the worst. More importantly, don't shy away from the obstacles.
Know when to quit
Since that attack in Afghanistan, White has left the Army and is now working in the private sector. He struggled with many mixed emotions since the day of that attack. His decision to leave the Army was based on the fact that his heart isn't fully in it. He believed it wouldn't be fair to those fighting beside him if he didn't have his whole heart in the fight.
It's the old cliche, "You gotta know when to hold 'em, and know when to fold 'em." As long as the fight is still in you, then go for it. But if your focus begins to go elsewhere, then it's not fair to the team to keep at it. There's nothing wrong with making a decision like that. In fact, it's quite honorable. It maintains a respect for the team, and ensures that they'll operate at the highest possible level.
No greater love
White's selfless acts, and knowingly putting himself in harms way for the benefit of others on his team is a great example of Jesus' teaching to His disciples.
My command is this: Love each other as I have loved you. Greater love has no one than this: to lay down one's life for one's friends.

— John 15:12-13 (NIV)
It's unusual to see such selflessness in a workplace where people are more likely to be out for themselves. However, laying down your personal agenda and preferring what's best for the team is honorable. It'll also get you, and everyone else with you, much farther than you can imagine.