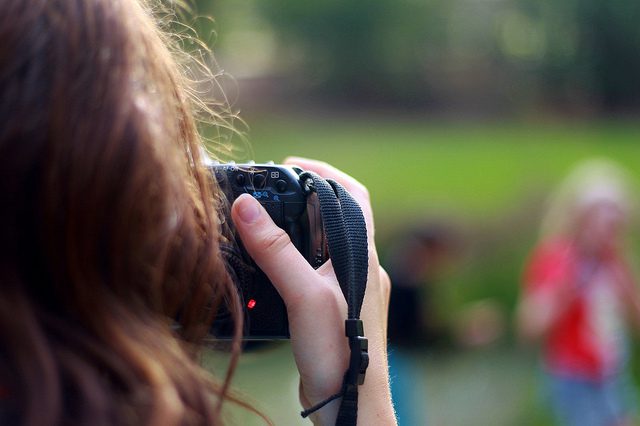 Editor's Note: This post from TheHighCalling.org by Cara Davis is being shared here as part of our series on Working for Free.
A single mom with two kids was facing some hard financial times last December. She knew she was not going to be able to provide any gifts for Christmas. She heard about Help-Portrait, a movement of professional photographers and volunteers who give printed portraits to families in need.
She brought her family to her local Nashua, New Hampshire, event the second week in December. Both children were shy and frowning when they walked in. Volunteers quickly disarmed them with hot chocolate, goodies, and fooling around. They loosened up, smiled ear-to-ear, and posed like champs for a beautiful family portrait.
Help-Portrait's Andrea Waxler recounted, "The mom took one look, started to cry, and said we had given back her Christmas spirit. She was amazed that both kids were actually smiling, especially her son who has been going through a tough time."
As a volunteer for Help-Portrait, I've relayed countless stories that have emerged from these events. I've been a professional writer, editor, and web producer for 15 years, and out of all of the work I've done, none has been more fulfilling than the time I've donated to Help-Portrait.
How is it that working countless hours—mostly in the middle of the night—feels better than receiving the biggest paycheck I've ever gotten for the same work? It's the ability to give back to others by using what I already do well.
I'm not alone. Dozen of photographers who donate their time to give free professional portraits to people in need each year say this is the single most satisfying work they've ever done. It serves as a simple reminder of how blessed we are, and how a simple act of kindness can enrich someone else's life.
Each year on the second Saturday in December, photographers, hair and makeup stylists, and other volunteers organize local events around the globe to give back to people in need by providing makeovers, clothes, professional printed family portraits, a warm meal, and other gifts.
In the four years since celebrity photographer Jeremy Cowart founded the group as a way to encourage the photography community to give back, Help-Portrait has given more than 200,000 portraits by 20,000 photographers and volunteers in 56 countries.
The premise is simple:
Find someone in need.
Take their portrait.
Print their portrait.
Deliver it to them.
Seeking out those in need in society, they set up backdrops, lights, and makeup stations in homeless shelters, hospitals, and poverty-stricken areas to give portraits to those who would never otherwise have them. At these events the portrait becomes more than a representation of a person's likeness or a keepsake. It becomes a receipt of an exchange between individuals, and the currency is dignity, courage, love, and hope.
A young boy in Roanoke, Virginia, told a volunteer, "My Mommy will cry when she sees this photo—I have never had a portrait taken before, and I will give it to her for Christmas."
The beauty of Help-Portrait is that it not only benefits those on the receiving end. In an industry of fierce competition, photographers in the same city come together and work for the greater good. It's building community in a beautiful way.
Jordan Anderson, a volunteer in Saskatoon, Saskatchewan, Canada, said, "I work each year with the local AIDs charity, and when I am told the photo I take of some of these amazing people is the last one ever taken of them, it hits me in a way that I cannot explain."
Fernanda Mathias, an organizer in Rio de Janeiro, Brazil, said, "It was really beautiful to see how something so simple and so ordinary for us meant that much for those people. It was an amazing experience."
It started with a simple idea—to give back with our skills and talent—and it's blossomed into a grassroots, worldwide movement fueled by people hungry to give, instead of take, portraits.
What do you do well? What do you have in your hand? How can you use it to organize people to give back?
People are often willing and want to give back, but they need permission, so to speak. An organized effort creates boundaries and a benchmark for giving back in areas of need that seem infinite.
Do what you can with what you have. It's 1 Peter 4:10 in living color: "As each has received a gift, use it to serve one another, as good stewards of God's varied grace" (ESV).
Start a movement with a single act of grace.
What are some ways you can use your profession to give back?
[Photo by Tim Miller, used under a creative commons license, sourced via Flickr.]
---
Working for Free
In this series, Working for Free, we'll take a look at the different ways people navigate the world of working in a job they love, even when it might not be the way they make ends meet. Join the discussion or share your story in the comments. What do you think? Is passion enough?