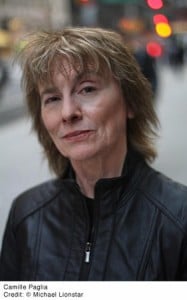 Thanks to her love for the Jesuits (her dad taught at LeMoyne College and she took a logic class there) and to a former Wabash College professor of mine, Camille Paglia was gracious enough to let me interview her for America last week.
In our interview, "The Catholic Pagan," the punchy cultural critic shares her views on Pope Francis and academia. Professor Paglia also recalls the influence of her own Catholic upbringing and journey out of the Church to embrace paganism. "Italian Catholicism remains my strongest identity," she says.
Father James Martin, S.J., notes that I'm the second Jesuit scholastic to interview the nation's most famous "dissident feminist" for America magazine. In this America blog entry, Father Martin re-posts his 1994 interview with Paglia and an introduction by Father George Hunt, S.J. He also explains how his own interview came about.
For my part, I first encountered Paglia's work as an undergraduate student in the fall 2000 semester at all-male Wabash in Indiana, where my Classics 101 (Mythology) professor assigned one of her essay collections ("Sex, Art, and American Culture") as a required textbook. He liked its pop culture-infused commentaries on ancient mythology. Classics 101 was a popular class with a popular teacher at Wabash, but Paglia's fun little book — so very different from many of the dreary, trendy, and disposable texts we read elsewhere in our liberal arts studies — was so engagingly written that it left a stronger impression on us than any of the other readings.
So it was because of this classics professor, a Latin mass-going Catholic, that I first read Paglia and more recently was able to contact her for an interview. My professor has maintained a friendship with Paglia for many years now. He is currently arranging a campus lecture for her at Wabash sometime this semester.
After college I bought and read most of "Sexual Personae," Paglia's master work on art and pop culture. Although I didn't enjoy it as much as her essays on the pagan roots of Madonna and Catholicism, its direct writing style and original insights made an impact on me. It's hard to read Paglia without agreeing and disagreeing with her in equal measure.
Read the interview and see what you think.