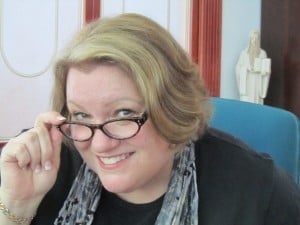 Today I've got an interview up at America Magazine with our very own Elizabeth Scalia, managing editor of the Patheos Catholic portal. As many of us know, Elizabeth blogs here as The Anchoress, referring to her monastic roots as a Benedictine lay oblate.
Last week, The Anchoress was named blog of the year for 2015 at CPAC, the annual gathering of political conservatives in the D.C. area.
Elizabeth is also an author and a regular columnist at First Things.
Among the quotable moments from our interview, my favorite is when Elizabeth declares: "Internet Catholics be crazy."
She also tells the story of how a four-day exchange on Twitter about Catholic stuff ended with "someone going back to confession for the first time in years" and Elizabeth going as well.
As always, Elizabeth is very thoughtful and engaging, so I recommend the article for anyone who is curious about the "blogging apostolate" that she and many other Catholic writers (both lay and clergy) strive to exercise faithfully online.