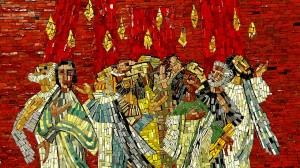 A Sonnet for Pentecost
Let your Spirit fall on your people once again,
Enable and exalt the praise of our corporate, "Amen."
Fill our hearts and minds with your unending power,
That with adoration and thanksgiving you we shower.
Fulfilling the promises of prophetic days gone by,
Sent from the Godhead seated in the throne on high,
Ever active, ever moving, ever giving life
Guiding the Church as comforter and midwife.
Our hearts burn with a good and holy desire,
To see your flame and be kindled by your fire.
Anoint and sanctify us that we might know your will
Your presence is sufficient, then and still.
You are welcome here, you are welcome in this place;
Come, O Holy Spirit, bless us with thy gift of grace.