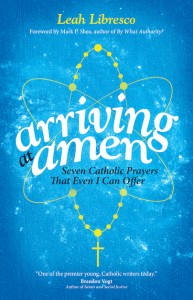 I have only been a Patheos blogger for a month but when the opportunity came knocking to review a book I jumped at it quickly. My level of excitement was high when I learned that Arriving at Amen: Seven Catholic Prayers That Even I Can Offer by fellow Patheos blogger, Leah Libresco, was one of the options. As if the book's title, cover, and content weren't enough to entice me, Libresco uses Inspector Javert from Les Miserables as a powerful analogy throughout her introduction. Little did Libresco know—and why would she?!—that I grew up memorizing every word to the three-hour musical!
For those who don't yet know the author, Leah Libresco is a well-known atheist-turned-Catholic writer and blogger. You can read more of Leah's writing over on her blog, Unequally Yoked. While Arriving at Amen is about the prayers that have been meaningful to her, the book is equally about her conversion experience in being pursued by the Good (i.e. God). Leah recounts the story of a debate she had with a Christian friend during which she stated, "I don't know, I guess morality just loves me or something," (xxviii). Leah had been pursuing justice and morality just as Javert had done in the book: for the sake of justice and morality. However, she soon discovered that, "Morality wasn't just a rulebook but some kind of agent…If morality reached out to me, it had to be offering itself as a gift: it wanted good for me, not from me," (xxix).
Leah does a wonderful job of weaving personal anecdotes and moving word-images while describing the prayers of Petition, Confession, Examen, the Rosary, the Divine Office, Lectio Divina, and the Mass. Admittedly I found it difficult to relate to Leah's story of conversion. I cannot remember a time when I wasn't in church or when I didn't "know" God. If Leah was arriving at "Amen" then I had to read through the lens of someone who had arrived there already. That people from either side of the journey can read this book is one of the many reasons I am commending it to you!
One does not need to have been an atheist or agnostic to enjoy Arriving at Amen. Those who have grown up in the church and have always said these prayers will be challenged to pay attention to the words and meanings of their petitions and worship on a regular basis. Leah's chapter on Confession was especially meaningful because it forced me to be more aware of my own sins and to really grapple with the consequences (spiritual and emotional) of my actions rather than simply sweeping them under the rug.
Likewise, one does not need to be a Catholic to enjoy the depth of Leah's reflections. I found this book to be an invitation to deeper awareness and authenticity in prayer, whatever that prayer may be. I often had whole phrases and lines from the Book of Common Prayer in mind while reading this book. Personally, perhaps the most profound paragraph in the book is the concluding section of Leah's introduction. She writes:
But all those first, awkward, improvisational prayers were still a long way away on that night before Palm Sunday. That night, after I let go of my faulty premise and welcomed Christ into my heart, my Lutheran friend suggested we pray the Divine Office in celebration. It was the first of many times that I would rely on traditional Christian practices to teach me the rules of the new world I had found myself in and, little by little, open my heart to grace," (xxxi).
Leah hits a home run with that statement: prayer does indeed teach us the rules of the new world in which we live, the rules of the language game that we are now playing. In praying, both privately and corporately, we are taught words about God (theology) and offer those words back to Him in praise and adoration (worship). In prayer we learn what we can (and cannot) say about the triune God and the regular repetition of such prayers forms us as a prayerful people. Whether you're just arriving or have already arrived at amen, if you desire to be a person of petition, confession, self-examination, Scripture or the Eucharist then this is a book for you!
This post is part of Patheos's Book Club. Click on the link to read other reviews, to read an excerpt, or to order the book.