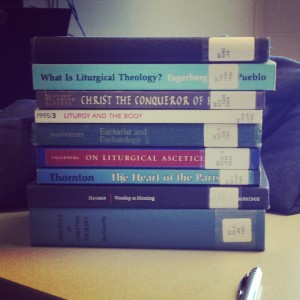 Every week I will share links and resources as a round-up for your weekend reading. The inclusion of a link or article in my posts does not indicate that I am endorsing the material or opinions of the author. This is designed to help keep things on your radar and to start meaningful conversations.
In Case You Missed It…From The Blog This Week
"Worshipping the Unity: Sermon Notes for Trinity Sunday, Year B"
"The Feast of Augustine, First Archbishop of Canterbury"
"Celebrating the Feast of the First Book of Common Prayer, 1549"
"A Seminarian's Sermon for Trinity Sunday"
From Around The Web
My friend, Matthew Dallman recently wrote a post for the Ambrose Institute. You can read it here: "The Principles Behind Martin Thornton's Theology." Matthew is Executive Director of Akenside Press.
N. T. Wright's upcoming book, Paul and His Recent Interpreters from Fortress Press, is available for pre-order on Amazon.com.
Scot McKnight had Donald Nwankwo (a new Anglican deacon) write on his blog as a guest. His post was titled, "Is Faith Unintelligent?"
The internet has blown up with responses to the Josh Duggar scandal. You can find posts anywhere and everywhere, so rather than posting about the news that broke I am offering you a Patheos.com piece about abuse in the church. Read it here.
"Infant Baptism: Is It Biblical?" by Preston Sprinkle
"Why I Still Believe in Believer's Baptism" by Preston Sprinkle
"Christianity's Revolutionary Recognition of Women as Equals" by David Theroux