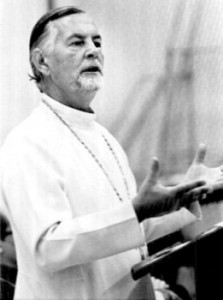 My work has been very heavily influenced by Fr. Alexander Schmemann and I think he has a great deal to say on the subjects of liturgy, sacraments, and the church.
For those of you who may not know him: Fr. Schmemann was a priest of Russian descent in the Orthodox Church committed to liturgical theology and renewal. After a teaching period in Paris (1946-1951), he joined the faculty at St. Vladimir's Seminary in New York where he remained until his death in 1983. Married to Juliana, he was awarded the title of Protopresbyter, the highest accolade available for a married priest in the Orthodox tradition. His writings cover the liturgical life of Orthodox Christianity and call people to a deeper understanding of and participation in the church's worship and sacraments. I don't think it is a stretch to claim that Fr. Schmemann is to liturgical studies/theology what N. T. Wright is to New Testament studies.
I have just recently started working my way through The Journals of Father Alexander Schmemann 1973-1983. Written over the last decade of his life, these journals are at once both personal and professional, intimate and theological. What strikes me the most in the opening passages is the recurring theme of joy: Fr. Schmemann constantly writes about joy that he experiences, those things and people that bring him great joy, and ultimately the joy found in living life in God's reality. I am deeply reminded of C.S. Lewis' autobiographical work, Surprised by Joy on this point. The more I read and study Fr. Schmemann the more convinced I am that he was man who radiated joy; you can hear the joyful tone through his writings, you can see it expressed beautifully in his memoirs.
The first journal entry is about "pseudo-churchly interests, petty and trifling" and "an ever-growing sense of reality." On January 29, 1973, Fr. Schmemann wrote:
"Always the same feeling of time filled with eternity, with full and sacred joy. I have the feeling that the church is needed so that this experience of reality would exist. Where there church ceases to be a symbol, a sacrament, it becomes a horrible caricature of itself," (p. 1).
How sad that we have often experienced cheap knock-offs of the full, embodied, sacramental life to which our Lord calls us as his church.
The Collect for the Fourteenth Sunday after Pentecost in the Anglican Church mentions "true religion." You can read my sermon notes here if you'd like, but Fr. Schmemann does a profound job of summing up my 3,300 word thoughts in two short sentences.
"'Religion' is the best and the worst in man. Not only the best, but also the worst: the falseness of religiosity, the pettiness of some 'believers,' their joyless, tasteless seriousness," (p. 1).
One need only look to Fr. Schmemann's writings on the sacramental and liturgical life of the Orthodox Church to understand that he does in fact believe in true and good religion, but he was also extremely aware that prayer can lead to false piety, that reverence can quickly become joyless, and that experiencing God's holiness can be muted in exchange for comfort and appropriateness. Religion as a category in and of itself is not bad of false, good or true. No, Christianity is the true religion and it is "good" when it is lived according to Christ's commands and loving invitation rather than our own whims and fancies.
I'll leave you with a quote from March 9, 1973 about the activity of modern man. You will see how almost half a century earlier, Fr. Schmemann identified a problem that has only since grown in size, magnitude, and seriousness. The content of our lives and the quality with which we live them reflects directly upon how we view God's gift of life to us. I'll confess to you right now that I believe keeping the three-fold regula of Eucharist, Daily Office, and Devotions (private or corporate) is the best and most fruitful method for combating such activism:
"The essential error of the modern man is to identify life with activism, with thought, etc., hence an almost complete inability to 'live,' i.e. to feel, to appreciate, to live life as a continuous gift," (p. 5)