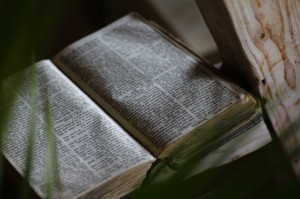 Jet, our three-and-a-half-year old, has been really interested in family stories lately. To be more precise, he loves to cuddle in his bed before sleeping and talk about "when mommy/daddy was a little girl/boy." He has already started developing his favorite stories: he loves when I tell him about my trips to the airport as a child to watch the airplanes land and take off or when Rebecca's brother broke his arm on a tree swing. After I have told him a story, he then shares about when he was a little boy…too much fun! Recently Jet has begun internalizing our stories and retelling them as his own. He tells tales of trips to the airport with his brothers (he only has one) and that time that his brother (really his uncle) broke his arm on a swing.
I have been mesmerized by the cuteness of these encounters but it only struck me this morning how profound they really are.
Jet is telling important stories as if they were his own…as if they involved him. In one sense, these stories have become a source of identity for him.
We are a people shaped by story. No, better yet, we are a people shaped by the story and we retell it every time we come together for worship, most fully in the Eucharist.
The strength and viability of a metanarrative is essential to the "success" of a group, institution, family, or faith community. We often hear political groups or corporations talking about "changing the narrative," particularly after a scandal or negative press. Post-modern philosophers have quipped that, "He (or she) with the best story wins." We are surrounded by stories with competing claims on our lives and competing views of "the good."
(Orthodox) Christianity doesn't just believe that it tells one story among many, but rather that her story is the story of stories, the story par excellence that gives meaning to life. To tell the Christian story is to learn the language of faith in a meaningful and powerful way. Just as Jet has internalized the stories of our childhoods and is now learning-through-telling, so too are we called to learn how to act as kingdom citizens as we share the stories of the Prodigal Son, the Good Samaritan, the Passion of the Christ, and the God of Abraham, Isaac, and Jacob.
Liturgy as Narrative Enactment
We gather around the Lord's Table to retell the greatest story the world has ever known, to find our identity through becoming that which we already are, and to be sent out as his heralds and agents of transformation and reconciliation. The ability to share and connect with a story is far more than a move from "tablet to table." We don't simply gather around the table to swap family stories, catch up with old friends, or make new acquaintances.
In talking about narrative and formation, N. T. Wright uses the analogy of a lost Shakespearean play that has been recovered. The manuscript has been found and it is a 6-act play but Act 5 is missing. The players still go on stage to perform their lines. When they get to Act 5, what do they do? One might think that they would be completely lost but no, they're not! The players have the first 4 acts and the final act to guide their lines. They are able to recreate and act out what may have been lost by placing themselves fully within an ongoing story. One simply needs to look at the ending in light of the beginning—and vice versa—to discover what needs to take place in the present.[1]
We are living in the 5th act.
God has given us His written word, His record with Israel and the church through Jesus, to show that we have been grafted into that story. Israel's history is now our own. Furthermore, God has revealed to us what the Kingdom of God will look like as Jesus puts the world to rights with the new creation of the new heaven and the new earth.
And every Sunday we join that cosmic play through the liturgy.
We participate in our future life now. We also participate in the ongoing and unending praise of heaven. Our worship is therefore heavenly participation and grand entrance into the presence of God.
Liturgy as Story
On Sunday mornings we are called out of the world into God's time to worship and praise Almighty God, he nourishes us with his Spoken Word and Word made Flesh, and then we are sent back out into the mission field to proclaim his name in word and deed. The liturgy begins with the opening acclamation, acclaiming the Triune God in recognition that He has called us to this place and time for the purpose of worship in response. The celebrant prays an opening Collect and we listen as four passages from Scripture are read aloud. The Gospel processes out into the midst of the people as a reminder that Jesus, the true Word of God, was sent into the midst of the people and we listen as if it were Jesus among us—because he is!
The preacher then takes those lessons and extrapolates them for teaching, instruction, convicting, and a call to discipleship. This opening "Liturgy of the Word" places us squarely within some portion of God's history with Israel and the church. We learn our collective history and memory in this moment and are exhorted to amend and live our lives in a certain way.
We progress into a more universal setting as we proclaim that words of the Nicene Creed—something that believers have been doing for almost 1700 years—as a response to hearing God's word proclaimed. We join our voices with one another and Christians around the world as we intercede for the church and those around us. We confess our sins in recognition that we are imperfect and have offended God's holy laws. We hear the words of absolution as a reminder that Jesus has already forgiven our sins through his life, death, and resurrection. We are at peace with one another and with God and therefore exchange that peace as a sign of true fellowship.
We then move to the "Liturgy of the Table." We bring our offerings—financial and other—before the Lord to demonstrate that he is Lord over all things and has given us every good gift. We praise his Holy name with our sung doxology because we believe he is worthy of all praise. The celebrant then begins the liturgy with the Great Thanksgiving:
The Lord be with you.
And also with you.
Lift up your hearts.
We lift them up to the Lord.
Let us give thanks to the Lord our God.
It is right to give him thanks and praise. (Or It is meet and right so to do.)
This is familiar because we repeat it weekly and we actually believe it's right to give Him thanks and praise, always and everywhere….
After the proper preface, a prayer set for the season or feast day, we move into the Sanctus. This is the song that the angels and heavenly host in Revelation 4-5 are singing in the throne room before God. Thomas Cranmer and John Calvin believed that we are actually joining in that chorus, that our hearts are there with the Lord, as we sing those words. Holy, holy, holy Lord. He is holy indeed!
The celebrant then recounts salvation history. The point is to remind the faithful of all that God has done in our midst and on our behalf dating back to creation. This is now your story, it is now our story. Then with the Words of Institution we remember the night that our Lord was betrayed. Our remembrance (anamnesis) literally brings a past event and pulls it into the present that we might be participants.
Then the celebrant invokes the Holy Spirit (epiclesis) to sanctify both the gifts and those partaking. We believe that the Spirit is present and moving in our midst. We recite the Lord's Prayer because it was what he taught his disciples to pray when they asked for instruction, and then we partake. We close with a prayer of thanksgiving because we believe that Jesus has hosted us at his table. The celebrant blesses the people in the name of the Triune God and then a dismissal.
Reflect on that brief recap of the liturgy. The liturgy shapes and forms us because as we pray it weekly it is embedded into our hearts and minds and begins to transform our actions, by the power of the Holy Spirit. What we pray matters. And when we pray we are expressing our dearest beliefs and convictions. What we pray shapes what we believe. The liturgy forms us and informs us.
The Power of Story
The age of Christendom is over but the Church is still called by God to be faithful. The church in America is no longer a "given" in society—we are more likely to be criticized or ostracized than respected (or even tolerated) for our views. As we begin to navigate the uncertain and varied terrain of our current religious, philosophical, and political landscape, we are in greater need of the story that shapes and guides us.
Israel is a good example of this necessity: even in the midst of captivity faithful Jews would tell the stories of YHWH's many and mighty acts thereby withstanding the temptation to assimilate to Gentile culture. Circumcision, Passover, Sabbath, and keeping kosher were different ways of proclaiming the story of YHWH's faithfulness.
To tell the story of YHWH was an act of resistance.
It was an act of covenant faithfulness.
It was an act of catechesis.
Now is the time for the church to emulate Israel and begin to take seriously the task of good, faithful story telling. May we continue to tell the story of God in Christ to our children and our children's children as we remind ourselves daily of all God has accomplished. We do this in baptism, the Eucharist, and the sacramental life of the church.
We are sent forth as story-tellers formed by the greatest story ever told. May we never forget who God is or what he has done. What story are you telling the world?
[1] Taken from After You Believe.