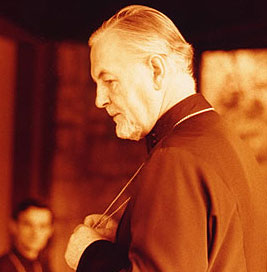 My work has been very heavily influenced by Fr. Alexander Schmemann and I think he has a great deal to say on the subjects of liturgy, sacraments, and the church.
For those of you who may not know him: Fr. Schmemann was a priest of Russian descent in the Orthodox Church committed to liturgical theology and renewal. After a teaching period in Paris (1946-1951), he joined the faculty at St. Vladimir's Seminary in New York where he remained until his death in 1983. Married to Juliana, he was awarded the title of Protopresbyter, the highest accolade available for a married priest in the Orthodox tradition. His writings cover the liturgical life of Orthodox Christianity and call people to a deeper understanding of and participation in the church's worship and sacraments. I don't think it is a stretch to claim that Fr. Schmemann is to liturgical studies/theology what N. T. Wright is to New Testament studies.
Fr. Schmemann's book, Introduction to Liturgical Theology, was written and translated from Russian into English in 1966. His opening chapter has a section entitled, "The Liturgical Crisis." He refers specifically to the liturgical crisis in the Orthodox Church but read half-a-century later his words powerfully describe current trends in evangelical or mainstream worship. Even though he identifies the Orthodox Church as "a liturgical church par excellence" (and please note that the preposition used here is "a" and not "the", i.e. he's not being arrogant or exclusive) the crisis is visible in every tradition.
The actual crisis taking place is a misinterpretation of the meaning of worship. I'll be quoting him at length in order to relay some of these timeless thoughts.
"The liturgical crisis consists, first of all, in the mistaken concept of the function and place of worship in the Church, in the profound metamorphosis in the understanding of worship in the mind of the Church…No matter how paradoxical it may sound, what obscures the meaning of worship is that it has become for the faithful an object of love, indeed almost the sole content of Church life." p. 28-29.
When worship becomes the object of our love rather than the vocation to which and through which we are called to glorify and love God then we have a serious problem. When we begin to love the song of the Lord more than the Lord of the song, or when we begin to worship the liturgy of God rather than the God of the liturgy we are in fact guilty of idolatry. Obvious though this may be, it is a subtle shift in the life of the parish and the individual. Notice how much this sounds like 2015 instead of 1966:
"But the individual believer, entering the church, does not feel he is a participant and celebrant of worship, does not know that in this act of worship he, along with the others who together with him are constituting the Church, is called to express the Church as new life and to be transformed again into a member of the Church. He has become an 'object' of worship, it is celebrated for his 'nourishment,' so that he may as an individual satisfy his 'religious needs.'" p. 30. (Emphasis added)
Worship has now become an experience in and through which the individual is satisfied and exalted rather than the revelatory act of the Church. The effect is drastic: worship now becomes the all-encompassing act of the Church rather than the "expression, creation and fulfillment of the Church." (p. 31) In other words, right worship ("right" meaning content not form) should lead to mission, ministry, and faithful gospel embodiment but when worship is "turned into something 'sacred in itself,' worship has as it were 'profaned' everything else in the Church." (p. 30)
What then is the role of worship in the Church? How are we to understand the vocation of directing the praise and worship of creation back to the Creator without missing the forest for the trees? How can we keep our priorities and mission in front of us whilst still engaging in right worship? He writes:
"And finally, having become a 'cultic society,' existing in and for the sake of the cult, the membership of the Church has become unable to understand that worship–as the expression, creation and fulfillment of the Church–places the Church before the face of the world, manifests her purpose in the world, the purpose of the people of God, set in the world with a Gospel and a mission…[worship is to be seen] as the leaven which raises the loaf, as the love of God directed toward the world, as a witness to the Kingdom of God, as the good news of salvation, as new life." p. 31