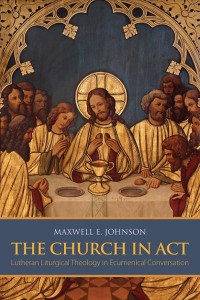 Earlier this year, Fortress Press released a new book by distinguished liturgiologist, Maxwell Johnson. For those who do not know the author, Maxwell Johnson is Professor of Liturgical Studies at the University of Notre Dame. Entitled, The Church in Act: Lutheran Liturgical Theology in Ecumenical Dialogue, Johnson made an important shift from liturgiology to liturgical theology. Do not let the title of this book fool you: it is not only intended for Lutherans!
The Church in Act is a must read for anyone interested in liturgical studies and theology.
This book was highly anticipated for two reasons: first, Johnson is well known and highly respected in liturgical and academic circles. Second, the book brings Lutheran liturgical theology and thought to the forefront in a field dominated by Roman Catholic and Orthodox theologians. Johnson covers all of the liturgical bases in this rich and robust text: Eucharistic reservation, the Virgin Mary, the presences of Christ in the Eucharist ordo, and a commitment to Word and Sacrament among others.
The opening chapter provided an intriguing and welcomed development in Johnson's thinking. Whereas in Praying and Believing Johnson seemed to support Paul V. Marshall's view on lex orandi, lex credendi, this book seems to demonstrate a more complex thought process. Johnson roots his argument in the belief that liturgical developments preceded and shaped doctrinal maturity. In recounting the development of baptismal spirituality in the early church, Johnson rightly asserts the normative and transformative role of liturgy in and over doctrine.
Johnson's honest critique of a deficient view of the epiclesis within Lutheran sacramental and liturgical theology was refreshing. Too often scholars are unwilling to focus the microscope inward and the result is that each tradition remains entombed in her confessional or academic ghetto. Such is not the case with The Church in Act. Johnson is quick to point out that the epiclesis is either missing entirely or very weak in Lutheran Eucharistic liturgy and that this is not in line with the historic witness of the Church.
Maxwell Johnson has provided a meaningful and important piece of academic, liturgical, and denominational research that will not only add to the ongoing conversation but will invite others to participate. To borrow from his final chapter, the question is simple: what shall we do now? Ecumenical efforts must continue. The very fact that liturgical traditions all refer to the right and proper administration of word and sacrament, though each will vary based on denominational convictions is evidence that there is hope for a "potential common ecumenical liturgical-ecclesiological understanding." (p. 7)
At the close of his preface, Johnson quotes liturgical scholar Robert Taft, SJ on ecumenism. Taft said, "Ecumenism is not just a movement. It is a new way of being Christian." (p. 12) Johnson's book is significant because it takes seriously both the rich tradition of the Lutheran Church and ecumenism within the one holy catholic and apostolic church. May we join Johnson, Taft, and others in their efforts to increase ecumenical dialogue about the church's liturgical worship.
You can and should purchase this book here.