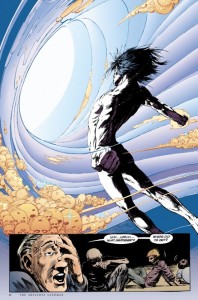 Despite jumping the gun on the rumored HBO production of Neil Gaiman's AMERICAN GODS, I feel confident posting this: the Vertigo Comics website announces Gaiman's groundbreaking story The Sandman will return in graphic novel form this autumn.
The series revolutionized the graphic novel industry, winning multiple awards and garnering an enormous fan base. It has been issued in multiple editions, including
hardcover
. The story of a melancholy Morpheus (an immortal being who command the realm of dreams) and his trials and tribulations with his siblings known as The Endless (including Death, Despair, Delirium, etc.) was compelling, beautiful and moving, as well as being utterly unlike anything seen in comics before. Rumors of a film adaptation have run wild for years, but it seems we are to have more of the story first.
The Sandman: Overture will be published bi-monthly beginning Samhain 2013. Vertigo is planning a sneak preview and panel discussion featuring Gaiman,artist J. H. Williams III and other artists at Comic-Con International in San Diego July 18-21.