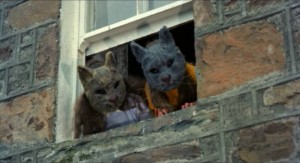 …or, some wonderful news to celebrate Lammas!
Although it takes place in the days leading up to Beltane, the 1973 film THE WICKER MAN might as well take place at Lammas, which is a traditionally a pagan festival associated with sacrifice (based upon harvest rites and rituals described in Frazer's The Golden Bough, among other sources).
So it's deliciously appropriate that the news of a newly-discovered complete print of this cult cinema classic (and required viewing for all of the pagan persuasion) should be announced in time for this festival of first fruits. A Facebook page set up to appeal for help finding the print recently announced its success.
What is very odd about this discovery is that the footage that made up the original complete print of the film (which had been significantly edited for its original theatrical release) was thought to be buried beneath a section of highway (the M3, to be precise), when the film canisters were mistakenly thrown away with a load of rubbish later used as landfill materials (this was discussed in Allan Brown's book Inside the Wicker Man, among other places). So, given the hopeless situation of the footage's whereabouts, such a discovery seemed unlikely, if not impossible.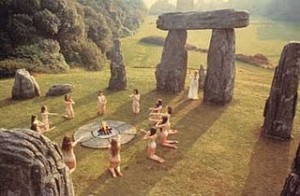 The Irish Times
speculates there may not be much material in this newly-discovered print that has not already been seen in various versions already released over the years.
This web page
offers some interesting details on how the multiple versions differ from one another, and of course print quality and aspect ratios also differ. Interestingly, it was the Harvard Film Archive (where my friend and colleague Hannah Sanders and I co-organized two conferences on paganism and media, inspired by the
Wicker Man
conference held in Scotland some years ago)that unearthed the print, after keeping it in storage for years. The 'Final Cut' as it is being called will be in limited theatrical release September 27th, and on DVD and BluRay thereafter.
Watch this space for more updates!