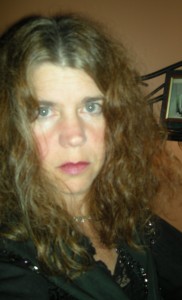 Well, here's a thing.
Since Lilith Dorsey (of the excellent blog Voodoo Universe) and I had so much fun channelling Stevie Nicks last night during our live chat about the latest episode of AMERICAN HORROR STORY: COVEN, that we're going to have a contest. Best "Stevie Selfie" wins a prize!!!
If you had not heard, Stevie Nicks will be making a special guest appearance on the show this season. Show co-creator Ryan Murphy was interviewed by Entertainment Weekly online about this exciting development.
So, in the spirit of excitement beyond excitement, we're having this photo contest.
It's easy: Take a photo of yourself dressed up as or channelling the Welsh Witch herself, and post it to your Twitter feed, or Tweet it to us using the hashtag #StevieSelfieAHScontest. My Twitter addy is @themediawitch, and Lilith is @LilithDorsey.
No need to dye your hair blonde or buy up every lacy shawl at the Goodwill..Stevie has lots of different looks and it's possible to capture her essence using your own creative spirit.
Good luck! We'll keep you all posted here and on Twitter; winners will be announced the week that Stevie first appears on the show.