…here are some holiday films I'd recommend that you may not have seen before, or may not have considered as having a "winter holiday" theme. Also known as "A list of Peg's Favorite Christmas/Yuletide/Winter Solstice Movies!" I love IT'S A WONDERFUL LIFE and THE NIGHTMARE BEFORE CHRISTMAS and EDWARD SCISSORHANDS, too but they are not on this list because you should be watching those, anyway, just BECAUSE.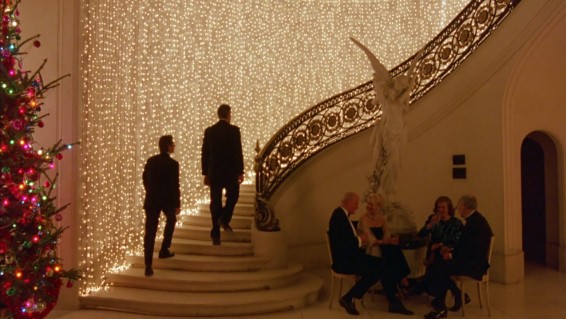 1. EYES WIDE SHUT (1999). Stanley Kubrick's last and possibly most controversial film. Set during the Christmas season in Manhattan, EVERY SCENE contains a brightly lit Christmas tree. It's a metaphor for what's going on in the film, but exactly what that metaphor is, may be a matter of debate. BONUS: An absolutely amazing scene (also controversial) of a sex slave party with overtones of cult-like pagan ritual. Must be seen to be believed.
2. MISTER MAGOO'S CHRISTMAS CAROL (1962). One of the finest and most under-appreciated animated Christmas specials of the 1960s. Jim Backus voices the beloved character Mister Magoo as Ebenezer Scrooge; this has delightfully singable songs, too. Razzleberry dressing for all! (I also love the classic animated specials, especially A CHARLIE BROWN CHRISTMAS.)
3. MORVERN CALLAR (2002). Scottish filmmaker Lynne Ramsay is known for some very dark films and this is no exception. Samantha Morton stars as a young woman of few words named Morvern Callar, who discovers her boyfriend has committed suicide beneath their Christmas tree. He has also left her instructions on what to do with his recently-finished novel. What she does next is the crux of the film; visually beautiful and hard to forget. The soundtrack, a mix tape Morvern's boyfriend made her, is also memorable.
4. TINKER TAILOR SOLDIER SPY (2012). Stunning period piece about British spies and secret agents with an amazing cast. There's a creepy office Christmas party at the heart of it that keeps reminding Gary Oldman that his best friend is a jerk. if you like British cinema and spy flicks in general, don't miss this. It's smart and gorgeously shot.
5. BRAZIL (1985). Terry Gilliam's brilliant dystopian story is set during the Christmas holidays, a fitting visual for this not-too-futuristic society where everything is commercialized and humanity is sorely lacking. A classic for all time. The ending is only happy for the main character, however.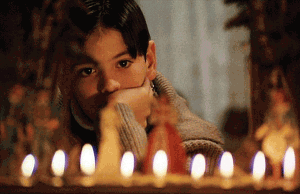 6. FANNY AND ALEXANDER (1982). Perhaps Bergman's most magical and pleasing film to watch, with a cheerful Christmas holiday seen through the eyes of the children in the title. Lovely cinematography, full of humor and wit, Swedish style.
7. TRADING PLACES (1983). Hilarious comedy with Dan Ackroyd as a wealthy jerk forced to switch places with a homeless man played by Eddie Murphy. Ackroyd drunk in a dirty Santa suit is just one of the ironic Christmas images that reminds us of the haves-versus-have-nots battle we're reminded of as the holidays emphasize once-yearly charitable giving.
8. BRIDGET JONES' DIARY (2001). Gotta love those tacky Christmas outfits the lovers wear when they first meet (and, predictably, hate each other). Christmas is a crappy time to be dateless, and that's Bridget's problem, is she desperately wants a man. But she learns to love herself which is a good lesson. Anyway, it has Hugh Grant AND Colin Firth mostly naked, so what else ya want?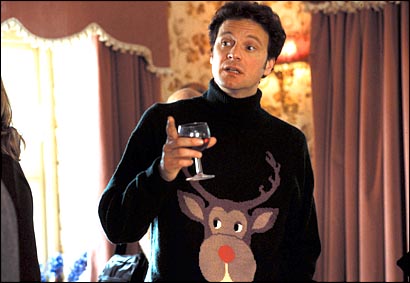 9. A MIDWINTER'S TALE (1995). This odd little black and white British film directed by Kenneth Branagh (its title in the UK is IN THE BLEAK MIDWINTER) is about a small village's Christmas pageant and the kooky cast of characters involved. It's funny, subtle and ultimately moving.
10. ORDINARY PEOPLE (1980). Christmas was just made for dysfunctional families, right? This film can be brutal to watch but the great performances by Timothy Hutton and Mary Tyler Moore are very worthwhile. The holiday scenes are particularly touching, as a family broken by grief tries to come together.