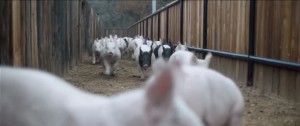 Well, everyone loves a year's end list of favorite stuff. This columnist does try her level best to make sure lists of favorites are crafted with en eye towards pagan sensibilities. With that in mind, in no particular order, I present the year's ten best movies for you witchy, tree-hugging, candle-burning, goddess-worshipping, animal-loving, mead-drinking, bonfire-dancing types!
1. MORE THAN HONEY. This fascinating and moving documentary, in German and English, begins with an elderly man who has followed in his ancestors' footsteps by being a beekeeper. The film looks at this crucial form of animal husbandry, in its ancient and modern forms, with the purpose of sorting out why colony collapse disorder is occurring, and the answers are surprising. A must-see for anyone who cares about the future of life on Planet Earth.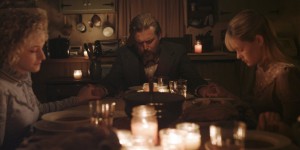 2. WE ARE WHAT WE ARE. From the maker of acclaimed indie vampire/zombie film STAKELAND, Jim Mickle, comes this odd and lyrical story of a modern family caught up in a brutal family legacy. Since every review and preview I came across used the word "cannibalism," I will, too; but this story goes places you wouldn't expect, and has some beautiful filming and impressive acting buoying it up as well. Spooky and horrifying, but also compelling and thoughtful. For me, anyway.
3. THE HUNT. A Danish film about a primary school aide (the excellent Mads Mikkelsen) who is wrongfully accused of pedophilia. The metaphor of the hunt is repeated in scenes of deer hunting in the forest, and the relentless ways in which a community turns on one of its own like a pack of predatory animals. Anyone who has experienced accusations of wrongful interactions with children based upon their pagan beliefs might see some parallels here, but really it's a film about the impossibility of fighting against prejudice and the uncanny tendency of people to believe in whatever lies they find convenient.
4. PRISONERS. Thematically similar to the THE HUNT, a small town is torn apart when two children go missing. The father of one, played by Hugh Jackman, decides to take justice into his own hands when the police detective handling the case (Jake Gyllenhaal) isn't moving fast enough to suit him. Jackman's character has a survivalist bent to him, which makes this interesting on a whole other level, prompting thoughts about the ways in which the current cultural obsession with "prepping" may be causing some people to see themselves as mercenaries above or beyond the law.
5. HER. Spike Jonze always crafts interesting stories and this one is eerily timely. A lonely man (Joaquin Phoenix) gets a new operating system for his computer (voiced by Scarlett Johansson) and falls in love with it. And that's not even the weirdest thing; the weirdest thing is that in this film's world (the not distant future) this kind of thing is not weird. A biting commentary on the dystopia we've created through our addictive engagement with personal technology.
6. PRINCE AVALANCHE. Emile Hirsch and Paul Rudd star as two men working on painting highway lines on a desolate stretch of road where the surrounding landscape is just beginning to come back to life after a devastating forest fire. An odd sort of buddy film, and remake of a recent Icelandic film, but really a meditation on how the isolation of being in nature removed from people can work its magic and madness on individuals very differently.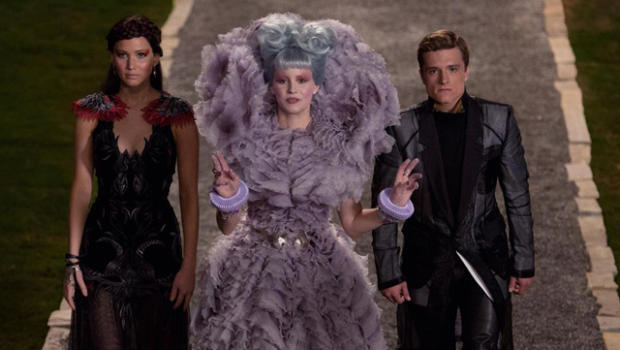 7. THE HUNGER GAMES: CATCHING FIRE. Really, does anyone doubt the sophistication and intelligence of this young-adult book series? Part dystopia, part social commentary, the high stakes "games" are a brutal metaphor for the celebrity-obsession and its horrific stepchild, reality television. But these stories resonate with pagan types because of their ingenious engagement with the natural world designed (and manipulated by computer) to be its most dangerous and beautiful…not to mention the gorgeous elementally-themed production design.
8. UPSTREAM COLOR. An unusual, mesmerizing story that manages to make everyone who watches believe in and maybe even understand the interconnected relationships all living things share. Visually beautiful, nicely acted, and with the aded cachet of being a movie many viewers claim not to understand. But give it a go, it's simply unforgettable.
9. DALLAS BUYERS CLUB. Matthew McConaughey (not an actor I normally enjoy but his work this year has been amazing; with maturity he seems to have become a major talent somehow) stars as a rodeo thug and general lowlife who we find out in the film's first five minutes (or thirty seconds if you're really astute) is dying of AIDS. Yet he's a homophobic jerk. And it's the 1980s and AIDS drugs are not available yet; true story all around. Commence his impassioned and ingenious plan to smuggle supplements and drugs from Mexico and other countries into Texas to help other AIDS victims via his own compassionate black market, including Jared Leto in a moving portrayal of a transgendered woman. Just goes to show you, when you walk in someone else's shoes, you become less of an asshole.
10. PHILOMENA. Judi Dench plays an elderly Irish woman who is compelled to seek out the son she was forced to give up over fifty years earlier. Rejected by her family when she became pregnant, Philomena went to live at a convent, where other unfortunate young women were forced to give up their children. This true story is a fascinating look at Ireland's Catholic church, its anti-sex morality, and the cruel practices of nuns who took in teen girls in trouble in the 1950s. Steve Coogan plays an English public official whose recent public resignation finds him trying to get back into journalism, and Philomena's story reluctantly become s a personal cause for him. Funny and fascinating.