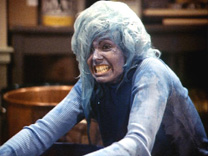 It's been a helluva year for witchy-themed media, mostly on TV. I'm working on a round-up of all things witchy from the year just past, and looking at things coming up in the coming year, to be posted in the next day or so.
I'd love to hear from any and all of you, in the comments section, any thoughts you have on any witchy media you enjoyed (or hated, ha ha) this past year, particularly if you caught something that fell beneath my radar.
I do already have a prediction for 2014: the popularity of AMERICAN HORROR STORY: COVEN will most likely result in a mini-frenzy of interest in teenagers and witchcraft. It won't be like it was after THE CRAFT came out in 1996, because things are so different now (the pagan internet was in its infancy then, too), but I do think there will be a flurry of interest, and maybe even a new crop of reality TV shows with a youthful focus…Okay, disclaimer, it's not just a prediction, it's a bonafide fact that major networks are already trying to work up some ideas along these lines. Yes, the Media Witch sometimes finds herself "in the loop" on these things. I'll keep ya posted, as always. And maybe chat about it live on Youtube, as well…
And of course, I'm already looking forward to
Jenji Kohan's new show for HBO on the Salem Witch Trials
.
Meanwhile, what fictional witches did you like this past year? Do you prefer the sappy Hallmark Channel ones or the edgy, naughty FX ones? What about any new witch-themed fictional works? Tell me what you think! (And don't forget your Stevie Selfie if you haven't posted one yet!)